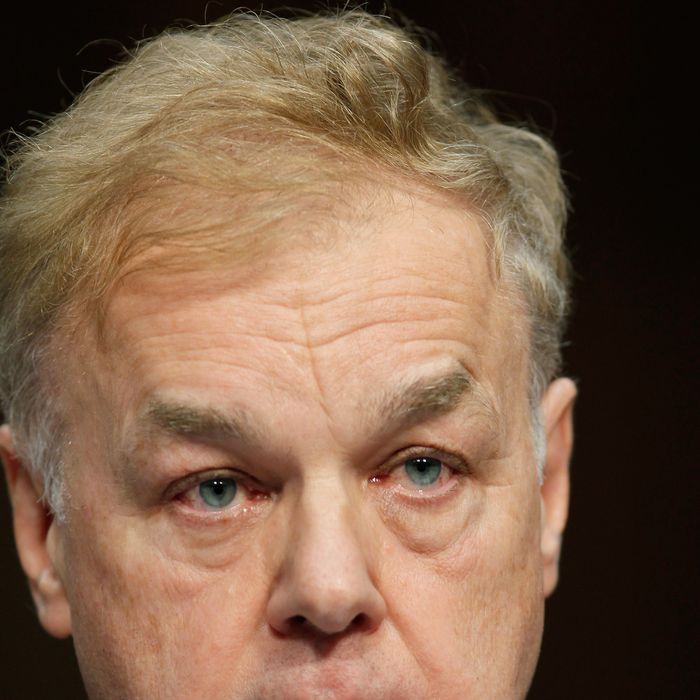 Here it is.
Photo: Chip Somodevilla/2011 Getty Images
The high-stakes game of lost-and-found for the missing $1.6 billion MF Global funds apparently reached a conclusion on Tuesday. According to CNN Money, investigators hunting the funds in the wake of the Jon Corzine–led brokerage firm's collapse located the massive sums of customer money. "We can trace where the cash and securities in the firm went, and that we've done," James Giddens, a trustee overseeing MF Global's liquidation, told the Senate Banking Committee on Tuesday, adding that the investigation is "substantially concluded."
After MF Global declared bankruptcy on October 31, 2011, investigators discovered that the firm used customer money to pay its own obligations. CNN Money details where investigators said they located the funds.
Roughly $700 million of the missing money is now locked up with MF Global's subsidiary in the United Kingdom, where Giddens and his team are engaged in litigation to have it returned to U.S. customers. Giddens said he is "reasonably confident" that these funds will be recovered, though he added that it will be a lengthy process with no guarantee of success.

Another $220 million was transferred inadvertently from the accounts of securities customers to those of commodities customers. That money is now in limbo amid a dispute over which customers it belongs to, said Kent Jarrell, a spokesman for Giddens.

The final $680 million or so was transferred to other financial institutions with which MF Global did business, including a substantial portion that went to JPMorgan.
Louis Freeh, the trustee for MF Global's parent company, which is involved in a separate investigation (and is seeking to recover funds for creditors), also testified at the Senate hearings. He addressed whether or not MF Global will face fraud or other charges for their roles in the collapse. "At this point, literally everything is on the table, both individual persons as well as institutions," Freeh said. CNN reports that Giddens may file civil claims against MF Global executives, including Corzine, for breach of fiduciary duties and violations of federal law governing commodities trading.

To date, MF Global customers have recovered about 70 percent of their money and will collect more soon, as a Manhattan bankruptcy judge approved on Tuesday another distribution that will push the total amount recovered to 80 percent.
Customers will have to wait longer for a pound of Corzine's flesh.