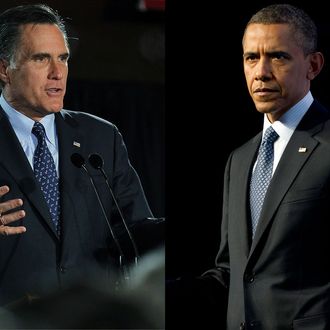 Yesterday, Mitt Romney advisers Peter Flaherty and Eric "Etch a Sketch" Fehrnstrom appeared at a forum hosted by the Washington Post to assure the world that their boss is not, in fact, cool — especially compared to Barack Obama. "This election is not going to be about who's cooler," said Flaherty. Instead, it's going to be about, "Who do you trust to run the economy?" Fehrnstrom chimed in, criticizing the President's recent slow jamming of the news on Fallon:
Fehrnstrom said the president's performance was "off key," and showed inappropriate levity about an issue — the possible doubling of student loan interest rates — that deserved to be taken more seriously.

"You won't see the governor slow jam the news," Fehrnstrom said, not discounting the possibility Romney could appear on more late-night talk shows or even "Saturday Night Live," thanks to the ability of those shows to reach voters who normally don't follow politics as closely.
Obviously, Romney's aides are trying to play up his uptight-but-reliable-dad persona (just look at his hair!), but referring to your candidate as uncool — even indirectly — seems like a dicey move. After all, everyone — even moderates — wants to hang with the cool guy, right? Luckily for Mitt, who was at least cool enough to use his iPad in church this morning, House Speaker John Boehner was on CNN's State of the Union this morning to clarify.
In response to yet another question about about the Republican candidate's trouble connecting with voters, Boehner called him "a very likable person" and, more importantly, tried to explain that he's not the opposite of cool, either: "The American people do not want to vote for a loser. They don't want to vote for someone who hasn't been successful. I think Mitt Romney has a chance to show the American people that they, too, can succeed." Because, you see, losers — by definition — do not win elections. 
All this anti-cool rhetoric is certainly reminiscent of John McCain's 2010 campaign, particularly Karl Rove's "Celeb" ad, which asked Americans whether a guy who wore neat sunglasses and hung out with famous people was really the person they wanted to lead the country. (Basically.) But is Obama even that cool anymore? The man himself thinks maybe not. At a Friday night fund-raiser at the home of BET chairwoman and CEO Debra Lee, he told the crowd as much.
"Back in '08, I wasn't as gray, and it was kind of cool being an Obama supporter. I'm just saying, now, we see the guy all the time, and he's kind of dinged up." Of course, it is entirely possible that there are more important things in politics — and, possibly, life — that being cool, and Obama knows that. As he went on to explain, "My commitment, my sense of determination is undiminished. My confidence in the American people is undiminished. My hunger, my desire to help every one of those folks out there that is trying hard to carve out a life for themselves and their families, that hunger is undiminished."