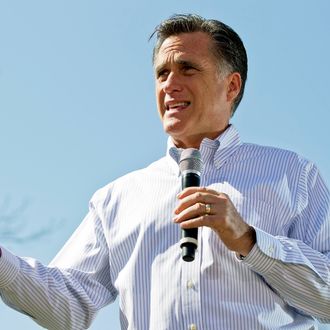 Republican presidential candidate, former Massachusetts Gov. Mitt Romney speaks to supporters during a campaign stop at Kirkwood Park March 13, 2012 in Kirkwood, Missouri. As the race for delegates continues, voters in Alabama and Mississippi will cast their ballots in their primaries today.
Photo: Whitney Curtis/Getty Images
For reasons that are not immediately clear, Mitt Romney couldn't file his taxes on time this year, and requested an extension, his campaign announced just now, moments before everyone tuned out for the weekend. According to a statement, Romney will file and release his 2011 taxes "sometime in the next six months, and prior to the election," and also probably late on a Friday afternoon.