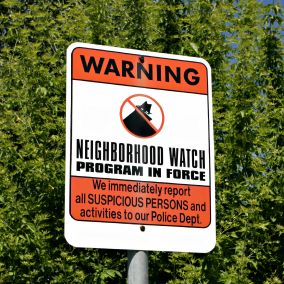 Like Skittles before them, 20th Century Fox has found itself with an unfortunate connection to the tragic killing of 17-year-old Trayvon Martin in Florida, and the New York Times is here to analyze the business implications. In July, the studio will release Neighborhood Watch, a movie about space invaders starring Ben Stiller, Jonah Hill, and Vince Vaughn. The movie can't help but be associated with real-life shooter George Zimmerman, especially with its original promotional materials, which included "image of a bullet-riddled Neighborhood Watch sign — on which the caped figure of Boris the Burglar, a familiar trademark of the National Sheriffs' Association, has almost imperceptibly turned into a lurking alien."
That "Neighborhood Watch" should be tainted by even a whiff of the vigilantism at issue in the Martin shooting is attributable not just to the film's name, but also to an unfortunate decision by Fox to release a brief initial teaser trailer that portrayed its stars as a band of dark-clad heavies cruising their suburban turf to a hip-hop theme. Mr. Hill points his fingers as if firing a gun.
Oops. Today, the Times does their journalistic duty to consider: What if this gem flops? The team behind the film, we learn, "are now left to wonder whether a news-media storm and a ferocious public debate over the shooting and its possible legal consequences have spoiled the fun of a movie that cost over $50 million to make and will cost tens of millions more to market." The horror.