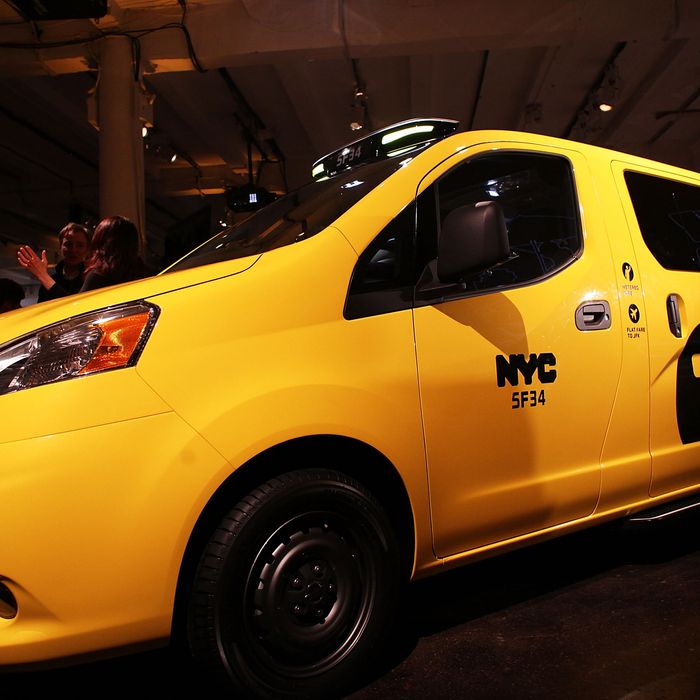 Photo: Spencer Platt/Getty Images
The model name of Nissan's "taxi of tomorrow" — NV200 — reads like textspeak for "envy," which is a fine New York sentiment. This is the cab that is supposed to have other cities salivating: a made-to-order, pothole-resistant, passenger-coddling, postcard-ready vehicle that hopes to become as beloved a symbol of the city as the late, lamented Checker. Not going to happen.
You can see what the city had in mind when it ordered up more than 13,000 of these babies, to be phased in over five years, starting in October 2013: an adorable microminibus tootling irresistibly around the streets. Instead, we got a clunky van: comfortable, nicely tricked out, and suspiciously suburban.
Tomorrow's taxi, Mayor Bloomberg said at its unveiling last night, "was designed from the inside out." It might be more accurate to say that it was designed on the inside, and that the "out" was something of an afterthought. Everyone will have a favorite interior improvement, and maybe a personal caveat.
At a time when airlines are turning ordinary legroom into an extra perk, the new cab allows even a six-footer to flex (but why not use the space for a jump seat?). Those with a tendency to drop their lipstick tubes will be gratified by new floor lights. Skyscraper-struck tourists will enjoy the tinted glass roof. Anyone who hates the plop-in/heave-out maneuvers needed to enter and exit the old Crown Vic will appreciate the new, more dignified step-and-slide. The seats boast an antimicrobial leatherish-feeling upholstery that supposedly absorbs odors, though how quickly it can handle the previous passenger's overdose of perfume or carton of takeout curry remains to be seen. Wheelchair-bound riders will be gratified by the optional pull-down ramp in back — if, that is, they happen to hail one of the 2,237 handicapped accessible taxis, a roughly one-in-six chance.
The most eloquent new feature is the little shin-height charging station — two USB connectors and a standard plug — located just below the air-conditioning controls, which in turn sit just below the video screen. These amenities are not new to family vehicles. But embedded in their new yellow wrapper, they make the taxi a paean to efficiency — not gas efficiency, especially (the NV200 gets a rather retro 25 miles per gallon) — but the minute-splitting attitude of the hurried New Yorker. The passenger of tomorrow will be able to play video games while watching TV in climactic and olfactory comfort, and arrive at destination unsweaty, entertained, informed, and fully charged.
But an urban icon should represent some New York quality: brashness maybe, swagger, or idiosyncrasy. The NV200 has too generic a profile to say anything about our city or the people who move around its streets — except perhaps that if we're going to be stuck in traffic we might as well get something done.
Related: Night-Shifting For the Hip Fleet