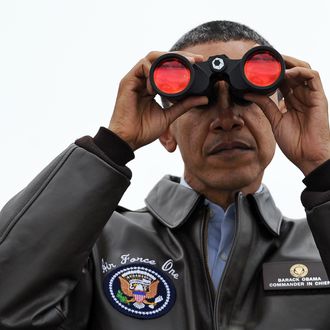 Eye on you.
Photo: JEWEL SAMAD/2012 AFP
North Korea is reportedly close to completing another long-range rocket launch test, scheduled as early as this week. The Associated Press writes that it was among foreign news agencies allowed access to the site where the isolated nation prepares the three-stage rocket. "Our country has the right and also the obligation to develop satellites and launching vehicles," Jang Myong Jin, general manager of the launch facility, said during a tour, citing the U.N. space treaty. "No matter what others say, we are doing this for peaceful purposes."

North Korea conducted a similar test in 2009 after which the U.N. passed a resolution demanding that it cease nuclear tests or launches of ballistic missiles. North Korea unveiled the instant rocket plans a few weeks ago.

Yet only about five weeks ago, North Korea agreed to a moratorium on nuclear tests, considered at the time a surprise breakthrough. In return, the U.S. was to provide 240,000 metric tons of food, which might be in jeopardy if North Korea indeed conducts the test.