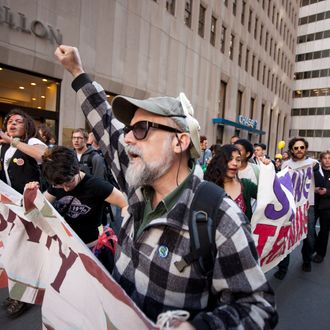 Photo: Michael Nagle/Getty Images
With the weather warming up, a new Occupy Wall Street protest tactic has started gaining popularity, with groups of demonstrators staying overnight on public sidewalks in lower Manhattan. Citing a court ruling from 2000 that defends their right to do so as political protest, occupiers have lined Nassau Street and Wall Street for a week, careful not to take up too much room or block doorways, and until now cops have allowed it. This morning came the first crackdown.
"Sitting or lying down on the sidewalk is not permitted," a captain announced, according to the New York Times. "Anyone who is sitting or lying down must now get up or be subject to arrest. Also, it is unlawful to leave moveable property on the sidewalk." Then it got physical:
The first arrest took place on the east side of the street, just before 8 a.m., when an officer grabbed a large piece of cardboard from a man.

"That's my cardboard," the man said, trying to grab it back.

"You're going to resist?" the officer said before arresting him. A few feet away, officers arrested a woman sitting on a curb.

Moments later, an officer placed a video camera close to the face of a man walking on Nassau Street. The man swung a bag toward the lens and the officer punched him in the face, then arrested him. A fourth arrest took place on Wall Street.
About 100 people spent the night on Sunday, and today is the hottest day of the year so far, meaning many more could decide to brave the elements in the days and weeks to come. With that in mind, it's not a surprise that the NYPD chose this morning to take action. Controlling the narrative seems important for the city in the wake of last fall's turbulent clearing of Zuccotti Park: Stamping out this new trend before it grows — and gains widespread media attention — is ideal, lest an Occupy Wall Street renaissance seem possible to not just the protesters, but to the public. For the city, fighting a few demonstrators in court might be preferable to facing growing numbers of them on the streets again.