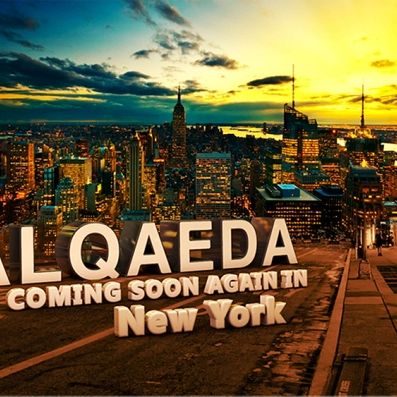 "The clear implication is a threat to New York — it's kind of done in a movie poster fashion," Deputy Commissioner Paul Browne told 1010 WINS's Sonia Rincon, referring to creepy image above. The Empire State Building stands in the center of the image as the city turns from day to night and a father and son stroll together on a sidewalk, the father turning to the street where the block letters blare a taunting message.
It's the type of image that any graphic designer could have whipped up, but what matters to the NYPD is that it exists and so the department will investigate accordingly. CBS New York notes Browne's observation that the graphic, which appeared on several Arabic-language sites including gulfup.com, shows police headquarters, which isn't normally part of the skyline. On at least one forum, it was found in a "artwork and design" section.

According to the New York Daily News, both the NYPD and FBI Joint Terrorism Task Force are investigating the origin and authenticity of the graphic.
Cops believe that it was posted by an Egyptian writer who regularly uses the Internet to spread propaganda about the terror network. The logo was posted in the "artwork and design" section on that particular web page, Browne said.

"We've done an analysis. He's not an American. We're leaning toward (him being) an Egyptian, using Arabic, to create communications on this site," said Browne.
Browne said they haven't found a direct connection between the graphic and any known plan to attack the city.

Meanwhile, the Washington Post has reported that Al Qaeda sites with servers based in various places, including Malaysia and the Gaza Strip, have been offline for a while now. "Al Qaeda's main Internet forums have been offline for more than a week in what experts say is the longest sustained outage of the websites since they began operating eight years ago," wrote the Post.
No one has yet taken credit for the blackout that's disabled many sites, but circumstances — the number of sites affected and the duration of the outages — tell to one former counter-terrorism official that the outages are much more likely the result of a cyber attack than an a technical problem.

There's been no reported connection between the timing of the Al Qaeda graphic and the outages.