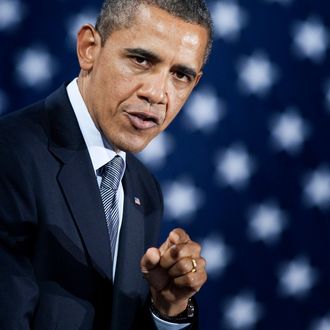 Coming to a battleground state near you.
Photo: Brendan Smialowski/AFP/Getty Images
One day after Mitt Romney effectively accepted the Republican presidential nomination at a lectern reading "A Better America Begins Tonight," the Obama reelection campaign announced that President Obama will hit the trail with the First Lady on May 5, with stops at Ohio State University in Columbus and Virginia Commonwealth University in Richmond. Campaign manager Jim Messina wrote in an entry on the campaign's official website, "He'll speak about how far we've come, and lay out the very real stakes in this election: Are we going to continue to move forward, rebuilding an economy that's meant to last, with a growing middle class and more Americans getting a fair shot? Or are we going to go back to the same failed policies that crashed our economy and left too many folks struggling to catch up? That's the choice."

Obama's campaign said that the president won't be back on the trail soon after. Meanwhile the Republican National Convention wrote a letter on Wednesday calling for an investigation into Obama's recent travel, decrying "official events" as campaign stops. "Given the recent excesses, waste, and abuse uncovered in the General Services Administration, the GAO should be particularly sensitive to misuse of taxpayer dollars," the letter said.
RNC chairman Reince Priebus called out Obama's trip in North Carolina and Colorado, but disappointingly did not specifically reference the part where Obama the slow-jammed the news on Late Night With Jimmy Fallon.
But Obama senior adviser David Axelrod dismissed the RNC's request as a stunt and said they wouldn't "get hot and bothered" by it, a phrase that often refers to sexual arousal, but we'll assume he means that they won't get fired up. The campaign said that Obama will be focused on his "day job."

"For the better part of last year, Romney has tried to tear down President Obama with a dishonest, negative campaign that even other Republicans have criticized," Axelrod said on Wednesday night. "Well, the monologue is over. Now Romney has to put his record and his agenda up against the president's and we look forward to that debate."
"We're not the candidate who reinvents himself week to week," Axelrod added. "If you want that you're going to need to go somewhere else."
Romney spokeswoman Andrea Saul echoed the candidate's speech last night, saying, "Americans shouldn't be surprised that President Obama's campaign will attack Mitt Romney for his experience in creating jobs. Unfortunately, voters will have to expect that the Obama campaign will be running a campaign based on personal attacks to divert, distract and distort."

The New York Times reported that Romney's campaign also touted a statement by Virginia's Republican governor Bob McDonnell, a Romney supporter who stands at number four in our Veepstakes Sherm-O-Meter. "In less than two weeks, President Obama will bring his failed policies and broken promises to Virginia," McDonnell said. "His policies have taken our country in the wrong direction, and Virginia and the rest of the nation can't afford four more years of the same."
Said Jim Messina to reporters Wednesday night, "Welcome to the general election."