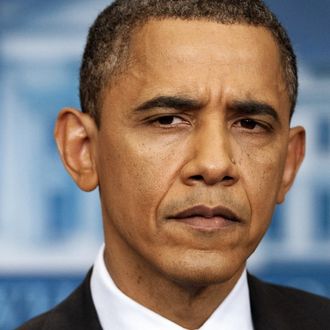 Photo: SAUL LOEB/2012 AFP
A local couple that has donated more than $50,000 to Barack Obama's reelection campaign reportedly has a trail of debt and stands accused in Florida of perpetrating a fraud scam via e-mail. A civil case charges that Abake Assongba impersonated a bank official to steal more than $650,000 from a Swiss businessman, which she then used to build a multi-million-dollar home.
In February, the Obama campaign returned $200,000 in donations from the family of a Mexican fugitive.
Assongba's husband told the AP that they are "very perturbed" by the charges, which he says are untrue. In addition to the fraud accusations, a former landlord is demanding more than $10,000 in court for back rent and damages from Assongba, who was also evicted in a separate 2004 incident, according to records. The couple, whose nonprofit donates school supplies and food in Africa, has given more than $70,000 to Democratic candidates recently, including a contribution to Hillary Clinton's 2008 presidential campaign.
Team Obama has not yet addressed the Assongba situation directly, but told the Washington Post that 1.3 million people have donated to the reelection effort — totaling more than $120 million — and individual issues will be dealt with.