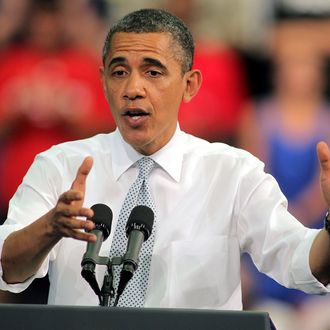 Reaching Joe Biden levels of poverty.
Photo: Marc Serota/Getty Images
President Obama can still count himself as a member of the "One Percent," but for how much longer? The Obamas took in a measly $789,674 in income in 2011, according to tax returns released by the White House today — down sharply from the $1,728,096 they reported in 2010 and a far cry from the $5,505,409 they earned 2009. At this rate, President Obama will finish the decade in a state of virtual penury, begging on the street next to a sign that says "Will Orate for Food." Or, he could write another book, on anything. Barack Obama's Guide to Birdwatching would probably bring in $3-4 million.