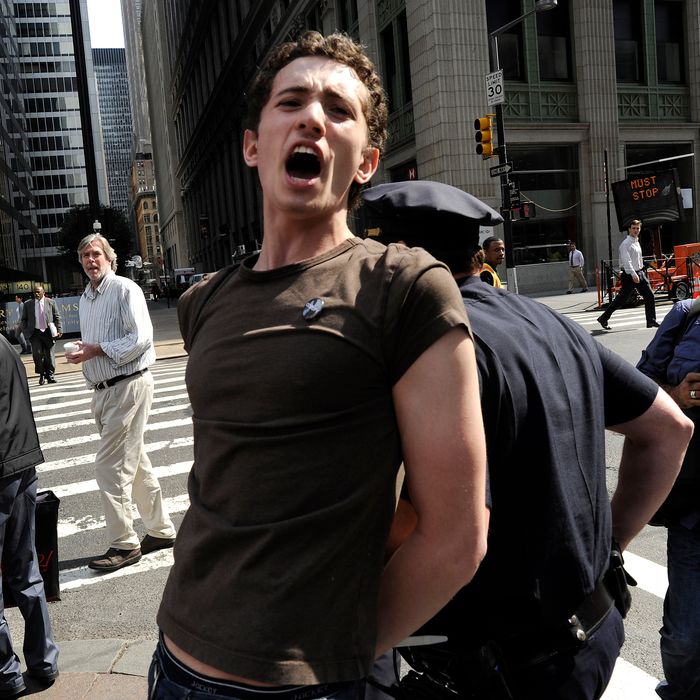 Photo: TIMOTHY A. CLARY/AFP
Ever since the NYPD raided Zuccotti Park at the start of last winter, robbing Occupy Wall Street of its symoblic home and constant visibility, the movement has promised a resurgence. In the months that followed, the loosely structured movement against income inequality and corporate corruption mostly idled, popping up sometimes, but gradually losing its hold on national headlines. Still, organizers continued to hype a bigger and better second act and the mobilization of thousands more, all of which is supposed to come to fruition on Tuesday, May 1. With so much riding on one day, they better have a hell of a plan.
"May Day will be the big kickoff of phase 2 of Occupy," one organizer told Mother Jones today. "I think we will see a lot of people in the streets taking more militant actions than they had in the past." Although Occupy started by calling for a "general strike," labor unions are not legally allowed to participate, and so the language has been somewhat altered. The event intentionally falls on International Workers Day, which is celebrated in countries worldwide, although not officially in the U.S. Occupy is putting their stamp on it by calling for "A Day Without the 99 Percent": no work, no school, no housework, no shopping. So what's everyone to do?
As it turns out, because the most important thing for the protests is attendance, a lot of the actions scheduled for next week are already public, despite months of semi-secretive plotting and vague, teasing whispers about the disruptions to come. Schedules and meeting places scattered around the Internet are good to bring out bodies, but also alert the intended targets, including Wall Street banks, Bryant Park, Union Square, and even the Golden Gate bridge.
According to a report from Bloomberg today, authorities are taking notice. Security companies are working with financial firms to "identify, map and track" protesters in order to "carefully and methodically" stop disruptions. As explained by one expert: "Banks cooperating on surveillance are like elk fending off wolves in Yellowstone National Park … While other animals try in vain to sprint away alone, elk survive attacks by forming a ring together."
Deutsche Bank, for instance, has already decided it will close its public atrium at 60 Wall Street, surely a neighborhood hot spot on Tuesday. Previous protests were "like a big forest fire that was suppressed and put out," said Bank of America's former head of security, but "there's also the opportunity for spontaneous fires to spring back up again."
That's the aim for demonstrators, anyway. In New York City, May Day participants will occupy Bryant Park beginning at 8 a.m., and move from there down to Union Square, where a massive musical event is scheduled, followed by a solidarity march in the evening. Meanwhile, demonstrators have warned commuters about potential blockades, possibly including (but not limited to) subways, the Brooklyn Bridge, the New York Stock Exchange, and the Holland Tunnel. Other symbolic spots like Goldman Sachs headquarters are also fair game.
Across the country, Occupy Oakland and San Francisco have already publicized perhaps the most ambitious action yet: taking over the Golden Gate Bridge. "This plan has been developed with safety as a priority, keeping in mind that participants should be able to choose their own risk levels," says the public website, which puts the tamer part of the protest at the bridge's toll plaza. "There will also be non-violent civil disobedience at an undisclosed location. This location WILL result in the shutdown of the Golden Gate Bridge."
Police will doubtlessly be ready and waiting. While mass arrests have the potential to stir things up nationwide — and crucially, attract the media — they could also handicap the protests, which need to appear both populated and organized. Tension and chaos may work to the demonstrators' advantage in the short-term, but what May Day really needs to conjure is a reinvigorated sense of urgency — one that's sustainable. If it fizzles on Tuesday, so might the movement.