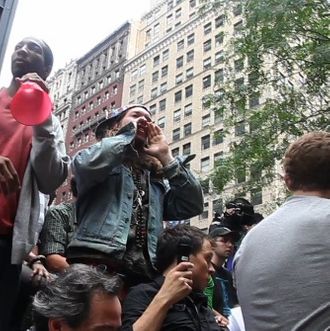 A Manhattan judge ruled today that Occupy Wall Street protester Malcolm Harris will not be able to prevent prosecutors from demanding "any and all user information" tied to his Twitter account. Harris was one of about 700 demonstrators arrested in last fall's march over the Brooklyn Bridge, only to have his social media profile subpoenaed by the district attorney's office. As the Wall Street Journal reported last month, "prosecutors have turned one of the movement's principal organizing tools — social media such as Twitter — against the defendants."
Harris sought to fight the subpoena, the New York Times reported in February, arguing "that the request for 'any and all information' could be interpreted as asking for private messages between Mr. Harris and others, as well as a host of data collected by Twitter, including e-mail addresses and phone numbers used by Mr. Harris, Web pages he has visited and information about his physical location at different times." But a judge said today that the information is fair and relevant. "Twitter's license to use the defendant's Tweets means that the Tweets the defendant posted were not his," the decision said.
Harris, meanwhile, says he's no longer tweeting from the account that was subpoenaed. "So this gonna get kinda weird because I haven't operated that account in months," he wrote from another username today. "Can Twitter turn over tweets from an account that's been subpoenaed even if it's not the same operator as when it was subpoenaed?" he wondered. Although tweets on Harris' account at the time of the march, @destructuremal, only date back to February, Twitter presumably has a record of the info prosecutors are actually after.
In an e-mail to Daily Intel this afternoon, Harris declined to comment directly on the ruling, but added, "Using a Harvard Law trained ADA's time prosecuting non-violent protesters is an outrageous and disappointing use of state funds."