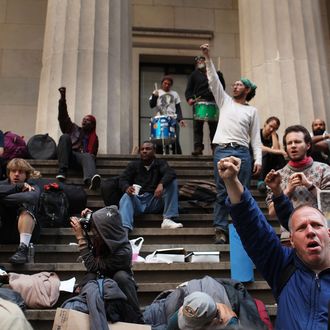 Photo: Spencer Platt/2012 Getty Images
After a week of increasingly popular sidewalk sleepovers, the NYPD decided Monday morning that Occupy Wall Street's new tactic was illegal, despite a judge's ruling in 2000 that seemed to protect that particular form of protest. Instead of fighting it, physically or in court, demonstrators moved a few feet away to the steps of Federal Hall on Wall Street — property of the U.S. government, which protesters understood to be out of the NYPD's jurisdiction. There they sat for hours, long after the memorial was closed for the night, as officers stood nearby observing, but not acting, until clashes with neighborhood locals led to some seemingly excessive arrests.
About 100 protesters hung around in good spirits, singing and enjoying a free dinner provided by allies, as a dull stalemate with police took them through nightfall, with the occupiers' numbers dwindling only slightly. An extended discussion session using the "People's Mic" did not result in a change of course, and by 9 p.m., it was time for chants and another sing-along.
All appeared peaceful when we called it a night, but that's when the mood shifted, according to Gothamist, as residents from a condo nearby started screaming at demonstrators. "These people don't have jobs, they haven't showered; they're fucking disgusting," said one woman. The noise complaints were apparently what the NYPD needed to act, and the arrests started. After a few heated incidents, Gothamist reports, "the NYPD continued to make arrests, frequently singling out protesters who seemingly did nothing wrong, and in some cases violently detaining them."
According to Metro, ten people in all (none of them the irate, reportedly violent locals) face charges including disorderly conduct, unreasonable noise, and resisting arrest. While a full-scale eviction from the area never occurred, police presence remains heavy today.