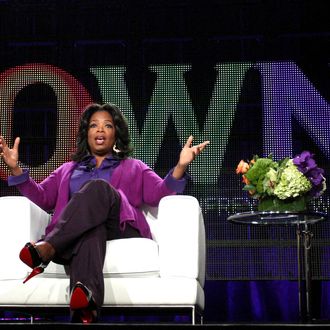 Oprah Winfrey speaks during the OWN: Oprah Winfrey Network portion of the 2011 Winter TCA press tour held at the Langham Hotel on January 6, 2011 in Pasadena, California.
Photo: Frederick M. Brown/Getty Images
In a CBS This Morning interview about her troubled TV channel, OWN (which laid off 30 people last week), Oprah Winfrey admitted that, had she known that running the network would be so difficult, she "might have done something else." She went on to compare the launch of the station to "having the wedding when you know you're not ready," but going ahead because "the invitations are already out." But, as always, Oprah did manage turn a bad situation into a teaching moment: 
"Because you failed at something — which, we haven't failed," she said, looking at the camera briefly — "but because you failed, does not make you a failure. And when you know that in the core of yourself, you can keep trying, or you can use whatever is happening in that moment to say, 'Maybe I need to move in a new direction.'"
For now, she says she'll be doing the former, with a new strategy of building "one show, one hour, one night at a time, and then move to the next night." And she won't be taking the easy route, either. In response to host Charlie Rose's suggestion that OWN's audience would grow if only she'd offer "more Oprah, more Oprah, more Oprah, more Oprah," she said "this channel can't be based upon me. It has to be based on my philosophy and my ideas." Like, for example, lots and lots of perseverance.