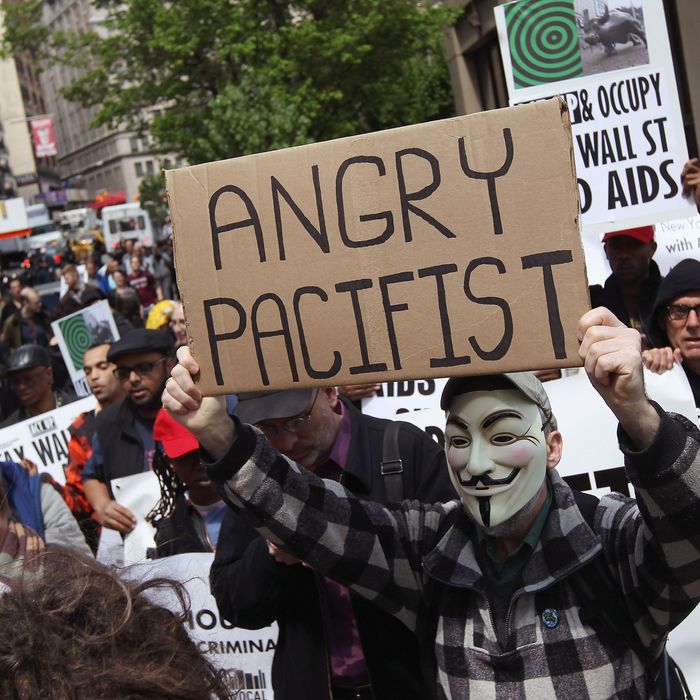 Occupy May.
Photo: John Moore/2012 Getty Images
Several months of planning by the Occupy movement culminate on Tuesday with massive protests against economic inequality and corporate greed, nationwide and especially here in New York City. Occupiers have called for a general strike aimed at unifying the 99 percenters and disrupting the status quo by shutting down commerce for a day. "Be it no work, no school, no shopping, no banking," the group says on the website May Day 2012, "the general strike is both a show of force and a cry for a remedy to the human rights crimes perpetuated by a weighted, biased, outdated system." The group concludes, "We call on everyone to join us: No work! No school! No shopping! Take the streets!"

"Part of the message that we're trying to get across is that the 99 percent make things run in this country," said Mark Bray of the OWS press team. "Without us, society wouldn't function … Withdrawing our labor from the economy shows the power we have. If it were sufficient to write letters to our Congress people or cast a ballot in November, we would be doing that." For May Day 2012 in a single illustration, click here.
But local protesters woke up this morning to rain, which could continue throughout the day and threatens to dampen the massive turnout needed to meet expectations. Sanctioned and unsanctioned events are scheduled across the city, and began with a "Pop-up Occupation" in Bryant Park at 8 a.m. This afternoon, protesters will converge at 4 p.m. in Union Square (with Tom Morello, Das Racist, and others scheduled to appear), after which they will hoof it down to Wall Street. One live stream of this afternoon's action, run by OWS veteran Tim Pool, can be seen here.
Just before 9 a.m., demonstrators started to depart Bryant Park in smaller groups for targets around town, including the Bank of America tower on 42nd Street, Chase Bank on 6th Avenue, and Goldman Sachs headquarters downtown, each of which had police already assembled. A few hundred protesters, and a couple dozen cops, also gathered in Brooklyn for a march across the Williamsburg Bridge early this afternoon. The rally in Midtown, meanwhile, resulted in at least one arrest before 11 a.m., as riot cops "tackled" a protester apparently for jaywalking. 
"We're experienced at accommodating lawful protests and responding appropriately to anyone who engages in unlawful activity, and we're prepared to do both," said NYPD spokesman Paul Browne yesterday.
The NYPD's Shield unit ("Countering Terrorism through Information Sharing") also prepared a six-page memo on the OWS protests, which doubles as a handy travelogue for protesters, advising on the schedule of events, the existence of May Day union protests that may be conducted separately, and a possible attempt to block all New York City bridges, tunnels, and ferries. 
Gawker reports that the NYPD stepped up pressure on some activists yesterday. Six cops broke down the Bushwick apartment door of artist Zachary Dempster, purportedly to serve a six-year-old open container warrant against his roommate, and then grilled Dempster about his plans for May Day.
Mayor Bloomberg said about the city's police presence on May Day: "We will do what we normally do and find the right balance." Salon points out the "convenience" of an already heightened police presence on May 1, owing to FBI and Department of Homeland Security warnings of potential terror activity on the one-year anniversary of Osama bin Laden's killing.
The roster of activities, by the way, includes more than marching and picketing: The pop-up occupation in Bryant Park includes skill-shares, workshops, teach-ins, speak-outs, meditation, public art, performances, discussions, and trainings; meanwhile a "Free University" in Madison Square Park is described as "a collective educational experiment" for the 99 percent "to disengage from an unequal system and imagine a model for alternative education."
Of course, clashes between protesters and police, not arts and education, will dominate headlines. Here's a note that stands out on the NYPD memo:
Political fissures that are present within the OWS movement may impact the strategies of demonstrators during individual protest actions; in particular, the Wildcat March is not an officially sanctioned OWS march and may attract militant elements from inside and outside the OWS movement that may seek to directly confront law enforcement officials using barricades, riot shields, and possibly weapons such as pipes and rocks.
The march set for 1 p.m. at at Sara D. Roosevelt Park at Second Avenue and Houston Street, will be led by non-OWS participants who may be looking for more forceful ways to protest the broken system. It could get ugly out there.
Update, 11:50 a.m.: The weather hasn't exactly cleared up, but the New York Times reports that numbers are growing in Bryant Park where "many hundreds of protesters" are still consolidating as the morning marches come to an end. A separate group is also gathering in Madison Square Park.
Elsewhere, following reports yesterday of suspicious (but ultimately "non-hazardous") white powder sent to bank branches along with notes reading "Happy May Day," the NYPD is looking into another similar incident today at 6th Avenue and West 48th Street.
Update, 12:05 p.m.: According to the NYCLU, protesters are attempting to march across the pedestrian walkway of the Williamsburg Bridge, but are being met at the exit by police, who have started making arrests and confiscating materials.
Update, 1:10 p.m.: Protests are continuing around Midtown, while another collection of "several hundred" demonstrators are meeting downtown at Sara D. Roosevelt Park for the so-called "Wildcat" march.
Other factions remain in Bryant Park with an eye toward this afternoon's Union Square event, where numbers are expected to be at their highest.
Update, 2:20 p.m.: The NYPD reportedly made multiple arrests at the Lower East Side march, where demonstrators unveiled a giant "Fuck the Police" banner.
According to the Times, officers began clashing with protesters around 1:30 p.m., when they "grabbed people out of the crowd, threw them to the ground and arrested at least four of them while trying to wrest a large banner away from the marchers." On Houston Street, cops continued "pushing protesters and journalists alike and making further arrests." A live stream of that contingent can be viewed here.
The crowds are expected to affect transportation later today. "Customers heading home during the afternoon/evening rush are urged to plan for extra travel time," the MTA announced in an alert.
This post has been updated throughout.