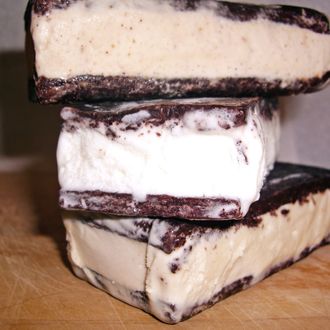 The Apple of Discord, in the Park Slope re-write.
Photo: Grubz
The ice-cream-vendor controversy might have just overtaken the Israeli-hummus controversy as the most ridiculous controversy to come out of Park Slope this year. Sure, the Park Slope Food Co-op took a vote on whether to vote on banning Israeli foodstuffs, but the parents of the Park Slope Parents list-serv have one-upped them: After their initial online discussion of how ice-cream vendors were ruining the neighborhood with their tempting, evil wares (and perhaps should be banned) prompted much Park Slope–parent mockery, they've decided to take away their own sweet treat. There's now a ban on talking about banning ice cream, as the Observer reports.
From a Park Slope Parents email:
Hey All,

We are calling a HALT to all discussion of the ice cream thread and the responses it has received. For me the best news is that clearly there isn't any REAL news to cover or this wouldn't have received the coverage it did. It is time to focus on spring, holidays, vacations, and the great things our neighborhood has to offer.
Like list-servs, judgment, and low-fat artisinal frozen yogurt.