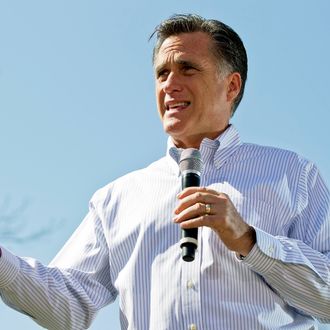 What is this, a popularity contest?
Photo: Whitney Curtis/Getty Images
According to a new Washington Post/ABC News poll, the presumptive Republican nominee is the least popular of any major party candidate since the organizations began gathering such data in the early eighties. The pollsters write: "The number of Americans with unfavorable views of him continues to hover near an all-time-high set in late March, with favorable impressions mired around one in three, making him less popular than any recent major party nominee in available Post-ABC polling dating to 1984."
With the Republican primary season effectively over, Romney has begun see increased support across the conservative base. The Post data shows that Romney now enjoys "career highs" among Republicans and conservative Republicans, with 69 and 80 percent holding favorable views of him, respectively.
Evaluating a matchup between Romney and Obama, the pollsters write:
Meanwhile, Obama's popularity has ticked up and matches a two-year high in periodic polls. Relative to Romney, Obama is buoyed by strong support among women: 58 percent of women hold favorable views of the president; 36 percent unfavorable ones. By contrast, Romney is deeply underwater there, with about twice as many women expressing unfavorable as favorable views (52 to 27 percent).

Obama and Romney have about equal favorable numbers among whites (43 and 42 percent, respectively), even as the president has somewhat higher negatives (52 vs. 43 percent). But there's a gaping difference among all non-whites, 82 percent of whom have favorable opinions about Obama, compared with just 21 percent who hold positive impressions about the likely GOP nominee.
Note that the War on Women was unofficially launched on the night that polling began, so factor that into the data somehow.