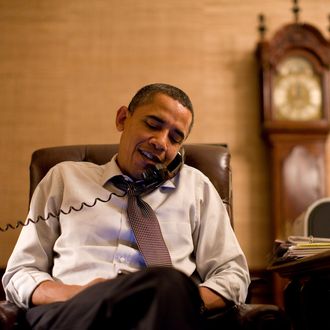 Obama working the phones for Wedel.
Photo: Pete Souza/The White House
Two months ago, during something the kids call a Google Plus "hangout," Texas woman Jennifer Wedel told President Obama that her husband, a semiconductor engineer, couldn't find work — because, obviously, immigrants. Obama told Wedel to send along her husband's resume, and she did, and then the Wedel family anxiously waited for jobs to materialize. But they didn't, and Mr. Wedel is still unemployed to this day.
"I did feel we got our hopes up a little," Jennifer Wedel said last week. "I mean, he's the POTUS. But it seems not even the leader of our country can get [Darin] a job."
What a failure. Thanks for nothing, "President" Obama. Well, not nothing, technically.
For weeks after that, the family's telephone rang constantly with calls from recruiters, headhunters, the news media, the Texas Workforce Commission, the White House, and out-of-town and out-of-state companies about possible job opportunities …

Many calls came from out-of-state companies, as well as companies throughout Texas. But Darin's work choices are limited to North Texas because of a custody agreement for one of his two daughters that prevents him from moving away.
Nevertheless, we can probably all agree that if Obama really cared about the Wedels, he would build a new semiconductor facility in their front yard.