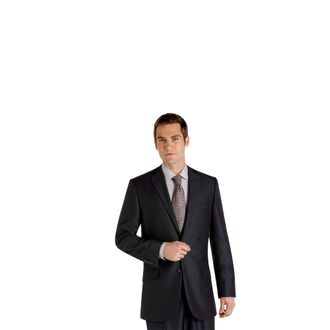 Ready to rage.
Photo: Men's Wearhouse
Location: 180 Central Park South; more specifically in the New York Athletic Club pub, the Tap Room.
Date: Two Thursday ago, around midnight.
Dress Code: Jackets mandatory until Friday at 5 p.m., when they become merely optional for the weekend. (All five brawlers were in full compliance, reports the Times. In full suits, in fact)
Occasion for Fight: "Over a woman," Sergeant Kenneth Monahan told the Times.
Caliber of Fight: A "nondiscriminatory ragematch" and "the best fight I've ever seen," said one bystander quoted on WallStreetJackass, a blog that covers this kind of thing.