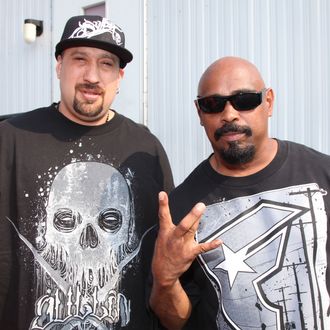 B-Real and Sen Dog of Cypress Hill
Photo: Johnny Nunez/WireImage
Williamsburg's so 2005; even Bushwick is a bit passé.
According to Prudential Douglas Elliman's Brooklyn market report, prepared by appraisal firm Miller Samuel, it's East Brooklyn that lured buyers in the first three months of this year, with sales declining in every other section of the borough. East Brooklyn's market share has risen from 10.3 percent last year to 18.6 percent this year, thanks to "distressed" properties finding takers in neighborhoods like East New York, Flatlands and Cypress Hills.
East Brooklyn's ascent aside, Williamsburg and adjacent Greenpoint aren't doing badly. Though prices there improved by just 4 percent to $588,000, per the Corcoran Group's survey, the average price per square foot is up an impressive 20 percent to $747.

In general, the borough appears to be holding steady despite fewer transactions. Though sales fell by 23.9 percent to 1,807 from the same period in 2011, according to Elliman, the median price is now $450,000 , down just 5.3 percent; the average price is virtually unchanged, losing just 0.8 percent to  $565,291. One reason for the borough's stability: a big dip in inventory. The number of available properties declined by 16.7 percent to 6,092 units. In Queens, it's more of the same, with prices echoing last year's numbers: The median sales price is $346,275, 1.1 percent lower than the first quarter of 2011. (The average sales price was also down 1.1 percent.) Sales slowed from 2,598 deals to 2,176. Since inventory fell by 35 percent, prices changed little. However, it takes five days longer — 119 days on average — to sell a place.

Other takeaways:

• Corcoran saw co-op values drop by by 19 percent to $395,000 in Brooklyn Heights, Cobble Hill, Dumbo and downtown Brooklyn. The median price for condos there jumped 34 percent to $744,000.
• The median price for co-ops in Park Slope and Gowanus fell 25 percent from last year to $492,000.
• Elliman says fewer new developments traded hands in Brooklyn compared to the first quarter of 2011. They comprised 15.2 percent of sales, down from 20.7 percent a  year ago.
• New developments fared better in Queens. They now comprise 7.3 percent of the borough's deals, compared to 4.7 percent in 2011.