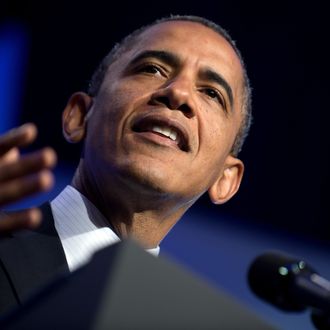 Ready or not.
Photo: JIM WATSON/2012 AFP
A couple months behind schedule, Republican super-PAC American Crossroads is planning to release the hounds on Barack Obama. With Santorum and Gingrich out of the way, American Crossroads, anticipating about $200 million in funds, is set to to kick off a campaign to achieve its singular goal: unseating Obama. According to a New York Times report, the super-PAC founded with the advice of strategists Karl Rove and Ed Gillespie has for the past several months been studying the electorate, while the whittled field of Republicans have traded barbs on contraception and bloodied each other. But that will end soon.
Officials at American Crossroads told the Times that the organization would probably begin its campaign this month, but "they said they would focus the bulk of the first phase from May through July, which they believe is a critical period for making an impression on voters, before summer vacations and the party conventions take place." Voters are just less malleable once they've lathered in suntan lotion.
American Crossroads' Steven Law said that the goal of the advertising onslaught — which will be waged in likely battleground states, including Colorado, Iowa, Michigan, Nevada, Ohio, Pennsylvania, Virginia and Wisconsin — will aim to "better connect Americans' disappointment with the economy to their views of the president, especially among crucial swing voters."

As for strategy, Law revealed:
Crossroads research suggests that Mr. Obama's campaign has started to gain traction among critical swing voters by arguing that Republicans, including Mr. Romney, favor an "economic plutocracy" in which middle-class voters can no longer count on financial security, even though they work hard and play by the rules.

"His argument is: 'The reason you feel bad is not because I've been an inadequate president but because the rules of the game are stacked against you,' " Mr. Law said. Calling it a "dystopian vision," he added, "that narrative has some gravitational pull."

But, Mr. Law said, interviews with independent voters, as well as uncommitted Democrats and Republicans who supported Mr. Obama in 2008, have revealed an alternate "emerging view" that Crossroads will seek to solidify, "that Obama just may not be up to the job, he can't seem to fix things he promised he would fix."
Obama's campaign and a pro-Obama super-PAC, Priorities USA Action, is not without means either.
For a holistic view of what experts expect when the general election kicks off in earnest, soon it appears, consider what Joe Hagan wrote for New York a couple months ago:
Whereas in 2008 there were about 25 opposition researchers, the engine of any negative campaign, working for Obama's campaign, the pro-Obama super-PACs, Priorities USA Action and American Bridge 21st Century, together add another 50. Even more will be added on the right, with American Crossroads, the super-PAC co-founded by the negative-campaigning guru Karl Rove, and the Koch brothers' Americans for Prosperity all staffed up and sharpening their arrows, ready to ally with whomever the nominee is and his respective super-PAC. That means that instead of two campaigns running against each other, there will be six or more, a virtual arms race of donor money, most of it anonymous, with overall television advertising spending expected to reach $3 billion in 2012. The tsunami of slime will overtake the public sphere for months.
But Law said American Crossroads won't get too ugly too quickly so as not to put off voters who still like the guy. After all, Obama is just a guy who loves his dog.