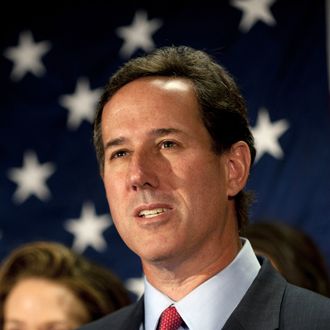 Don't you get, Piers? I hate Mitt Romney.
Photo: Jeff Swensen/2012 Getty Images
CNN's Piers Morgan gave Rick Santorum a series of forceful invitations to endorse Mitt Romney Tuesday night, but Santorum rebuffed each one. Santorum did have a few kind words for Romney, prompting Morgan to say, "If you like him so much suddenly, will you endorse him?"
"We're going to be meeting with Governor Romney to talk about some things," Santorum responded. "As you can imagine, we've been trying to decompress a little bit."
Morgan pressed Santorum again, "But you believe Romney is the right guy?"
"Obviously I believe I was the better choice, but I'm not in this race anymore," Santorum said. "He's the person that is going to go up against Barack Obama, that's pretty clear. We need to win this race."
Morgan stretched to call Santorum's words an endorsement and turned to Karen Santorum for confirmation. "Not at this point," she said. "We're working through it. We're talking about it."
Through Morgan's repeated questioning on the same point, we know this: Santorum will support the Republican nominee and do whatever he can to see that the GOP wins the election.
Morgan also asked Santorum if he would use his endorsement to negotiate a cabinet position with Romney, or cash to pay off campaign debts. Santorum flatly denied that, and John Brabender, a senior strategist for the Santorum campaign, told CNN:

I can assure you there will be no quid pro quo as far as Rick Santorum being on the short list (for vice president), no discussion of any talks of Romney helping us with any debt we have, and I doubt there will be any discussion about (Santorum's role) at the convention.
Eventually, eventually, Piers Morgan may get Santorum to endorse the man.