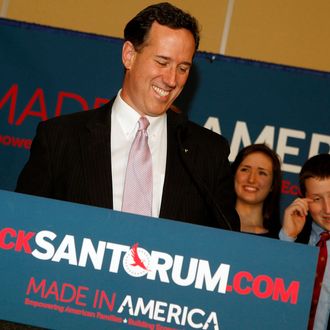 Republican presidential candidate, former U.S. Sen. Rick Santorum addresses supporters after winning the both Alabama and Mississippi primaries on March 13, 2012 in Lafayette, Louisiana. Louisiana's primary will be decided on March 24th.
Photo: Sean Gardner/Getty Images
The Republican candidate will be taking Monday off to spend time with his 3-year-old daughter Bella, who was hospitalized on Friday. After that, he'll be back on the campaign trail, but will only be doing a single event each day. As the Caucus notes, notifying the media of events more than one or two days in advance is an unusual move — one likely made to combat rumors that Santorum plans to drop out of the race.