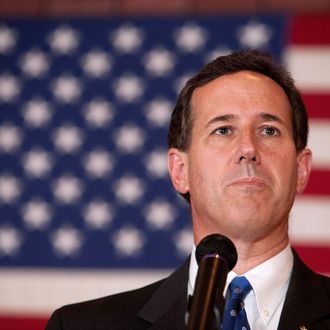 Photo: Mark Hirsch/2012 Getty Images
Rick Santorum announced today in Gettysburg, Pennsylvania that he will officially suspend his campaign for the Republican presidential nomination. Currently second in the GOP race, the former Pennsylvania senator would need about 75 percent of the remaining delegates to pull off an all-but-impossible victory over Mitt Romney, who seems to have finally pulled this thing off. Polls last week had Santorum trailing in his home state of Pennsylvania, which is set to vote on April 24, as well as in North Carolina, which follows on May 8.
Late last week, Santorum's young daughter Bella, who suffers from a rare genetic disorder, was admitted to the hospital again. "This was a time for prayer and thought last weekend, as it was when we decided to get into this race," Santorum explained today. "While this presidential race is over for me, and we will suspend our campaign today, we are not done fighting."
Santorum led an underdog campaign from the start, working with minimal money, organization, and resources, but managing to pull off wins in eleven states as the longest-lasting, vaguely viable non-Romney candidate. "We were winning in a very different way," Santorum said this afternoon, "because we were touching hearts and raising issues that people frankly didn't want raised."
Along with alluding to his religious values and invoking Abraham Lincoln, Santorum reminisced fondly about his campaign volunteers and the little shining moments of his run. "Even fun things like the sweater vest — amazing thing that sweater vest," Santorum marveled. "The sweater vest became the official wardrobe of the Santorum campaign." Mitt Romney, on the other hand, did not get a mention.
This post has been updated throughout.