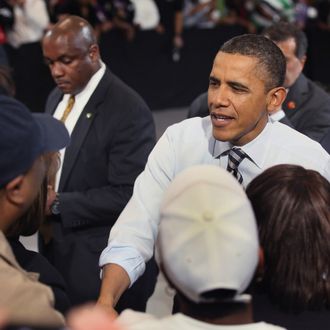 Photo: Scott Olson/Hetty Images
Mitt Romney's campaign is pushing the message this morning that President Obama is in the pocket of Big Labor:
>
A forthcoming research hit from Boston says the unions have "unfettered access" to the Obama White House, noting that AFL-CIO chief Richard Trumka has visited at least 71 times and highlighting his past comments about having daily conversations with administration officials. It also rounds up news clips that say unions will spend $400 million helping Obama in 2012. "Nearly 23 million Americans are struggling for work in the Obama economy, but the President has repeatedly sided with his well-funded allies in big labor over American workers," says Romney spokeswoman Andrea Saul. "From supporting card check legislation to stacking the NLRB with union sympathizers, President Obama has chosen to put the interests of big labor ahead of the interests of America's workers and job creators."
Meanwhile, the Republican National Committee is pushing the message this morning that Obama blocked the Keystone Pipeline, a project that was fervently supported by Big Labor:
Mark Ayers, President Of The Building And Construction Trades Department Of The AFL-CIO, Stated "Our Unions Have Been Steadfast Supporters Of The Keystone XL Pipeline."
If the RNC is going to devote its resources to refuting Romney's attacks on Obama, maybe it should at least put a few hours between them.