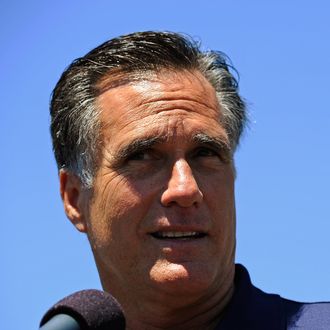 A champion for women since whenever it's politically convenient.
Photo: Kevork Djansezian/Getty Images
"This has been a, a good day for me," Mitt Romney said in Delaware on Tuesday night, referencing Rick Santorum's withdrawal from the Republican presidential nomination race.
He then pivoted to a glaring weakness: Women don't like him all that much and think Obama would do a better job addressing women's issues. A Washington Post poll released Monday shows that in response to a question, "Regardless of who you support, which candidate do you trust to do a better job … addressing women's issues," 53 percent of respondents said Obama, compared with 34 for Romney. And in both the Post poll and a recent USA Today/Gallup poll, Obama led Romney among female voters by a roughly 18 percent margin.

But Romney wants to set the record straight and win over some of the female voting public.
"There's been some talk about the war on women," he said, referring to claims by Democratic leaders that the Republican Party is hostile toward women with its positions on issues like abortion and health care. "The real war on women has been waged by the Obama administration's failure on the economy."

He repeatedly cited the figure of 92.3 percent, which he said was women's share of all the jobs lost since the president's inauguration in January 2009.

"The president is so out of touch, I don't think he knew that number."
That number was called "mostly false" by Politifact. Romney made the comments at a steel company named R.C. Fabricators.