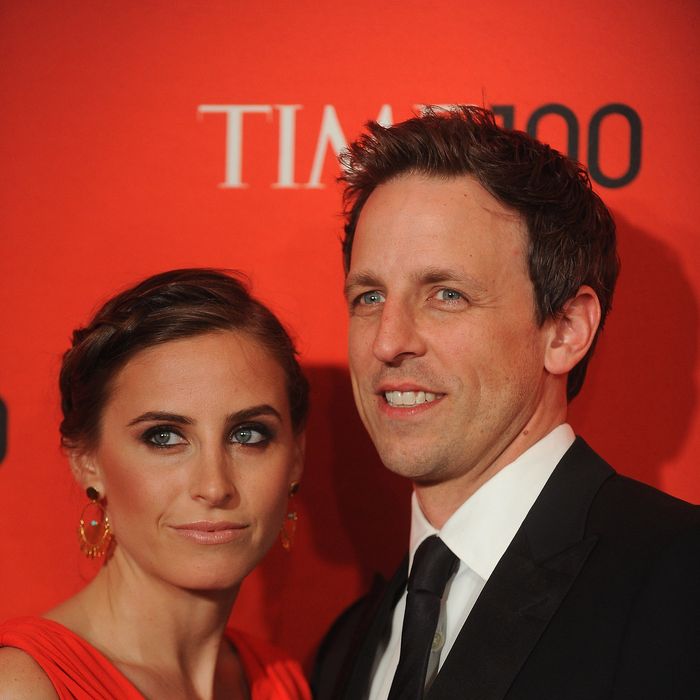 Seth Meyers and girlfriend Alexi Ashe.
Photo: Fernando Leon/Getty Images
There is a long and storied tradition of politicians appearing on, or outright hosting, Saturday Night Live as a way to lighten up their image and humanize themselves in the eyes of the American voting public. And no candidate could use that more these days than Mitt Romney, whose reputation as a straitlaced, robotic business tycoon is not exactly flattering. But asked last week whether he'd be willing to make a cameo on the show, Romney demurred. "I haven't made a decision on that, just heard about it," he told Diane Sawyer. "Of course it would depend on the nature of the skit. I want it to be funny." Sounds like he might need a little convincing. So last night at the Time 100 gala in Jazz at Lincoln Center's Frederick P. Rose Hall, we asked the show's head writer and Weekend Update anchor, Seth Meyers, how he'd pitch Romney on doing the show.
"I could tell him, 'Look, Giuliani did it, Palin did it, McCain did it, and they were all President,'" Meyers deadpanned. 
Seriously though, Meyers says he would "would love to have" Romney. "But I know he's very busy and so I don't begrudge him the time," he told us.
Besides, Meyers doubts that appearing on SNL would even help Romney's electoral prospects. "I can never tell. That's for other people to guess," he says. "You only know once people go to the voting booth, and being on SNL might be pretty low on their list of why they're voting for someone, when it comes to pulling the lever. I also believe that everybody knows who they're going to vote for now and nothing else matters." 
Okay then! Maybe someone else should be in charge of pitching Romney.