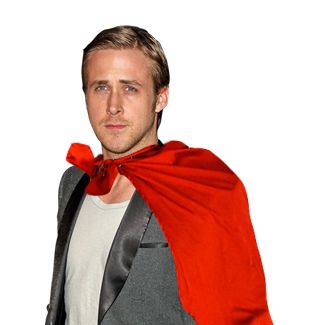 Actor/superhero Ryan Gosling.
Photo: Photo: Jason Merritt/Getty Images, iStockphoto
Last September, Ryan Gosling materialized out of nowhere and, using only the calming power of his hypnotic gaze and striped tank top, stopped a raging street brawl at Astor Place. Gosling laid low for the next few months, then reportedly reemerged last night to save a woman from being hit by a cab. "I literally, LITERALLY just got saved from a car by Ryan Gosling. Literally. That actually just happened," journalist Laurie Penny tweeted yesterday evening. "I was crossing 6th avenue in a new pink wig. Not looking the right way because I am from London. Ryan Gosling grabbed me away from a taxi."
Will Gosling continue to magically appear whenever the lives of New York City's normals are in danger? Yes, he will. And just as quickly, he will vanish, and the people he helped will whisper, "Thank you, Ryan Gosling" into the cold air of the night.
Update: Penny does not think anyone should care that Ryan Gosling saved her life. She is wrong.