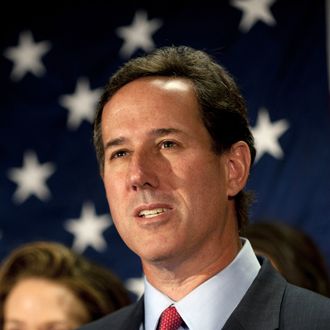 Oops?
Photo: Jeff Swensen/2012 Getty Images
A passionate Rick Santorum fund-raising letter hit Iowans' mailboxes Monday, in which the former candidate thoroughly trashed Mitt Romney and warned, "It truly frightens me to think what'll happen if Mitt Romney is the nominee."
Although Santorum, who dropped out of the race last week, probably believes most everything written in the letter about the "Massachusetts Moderate" who "presents zero contrast with Barack Obama on the major issues of this election" — the undated letter might have been sent in error.
The Des Moines Register, which first reported the mailing, offered some speculation about the curious dispatch. First, that the late mailer, sent via national direct mail, which sometimes gets delayed a couple weeks, went out owing to "simple campaign ineptitude." A more sinister suggestion originating with conservative radio host Steve Deace points to conflict between Santorum and campaign staffers who may want a position in a Romney administration.
"Any attempt by Mitt Romney to attack President Obama's positions on health-care, energy policy, social issues, or the economy will be easily neutralized," the letter says to residents of the state that gave Santorum the first victory of the primary season.

Santorum has yet to endorse Mitt Romney and this mailer, although it contains mostly the same anti-Romney themes he preached on the trail, won't make a begrudging endorsement for Romney any more sincere.
Santorum spokeswoman Alice Stewart told the Los Angeles Times that the mailer was approved, paid for, and sent before Santorum dropped out of the race.

"If you do nothing," the letter reads, "or if you put off answering my letter by even a few days — it'll be too late."
Yeah. It's too late.