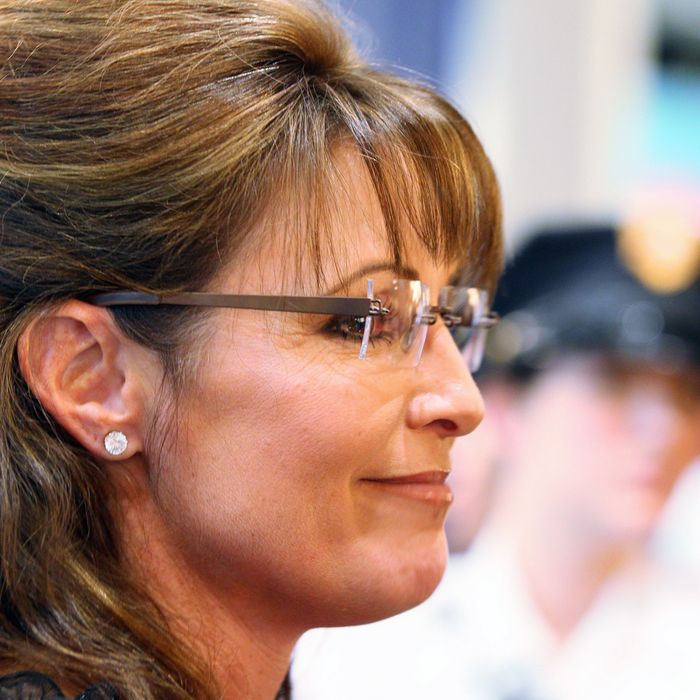 Photo: Adam Bettcher/2011 Getty Images
Matt Lauer didn't exactly let his temporary co-host, Sarah Palin, off easy: Yesterday, he chided her about her forthcoming guest-star appearance on NBC's Today, the morning-show ratings leader for sixteen years straight, asking, "What are you doing to prepare? Are you reading some newspapers?" That was an allusion to Palin's flop four years ago with Katie Couric, the ex-Today anchor, who's doing some guest-hosting of her own on ABC's Good Morning America. Couric's week subbing for Robin Roberts can be seen as a network stunt meant to finally push GMA across the threshold to number one in the morning, at least temporarily. Palin's presence was a counterpunch; we'll see who hit harder when the ratings come out.
But today, Lauer pushed Palin again, making for some good TV. At her first mention of the "lamestream media," Lauer countered, asking essentially, Aren't you one of us now? And so it was.
Lauer also asked Palin bluntly about Mitt Romney, who she steadfastly refused to compliment directly. "Anyone but Obama, anyone but Obama" was her refrain. She dodged again when Lauer asked if maybe Romney should choose a vice-presidential candidate with more experience than she had. As noted by Vulture's Jessica Grose in our live blog, "Matt loves to put on his serious reporter glasses."
When Lauer brought up Julianne Moore's performance as 2008 Palin in the movie Game Change, she said she doesn't waste time with "false narratives" but quickly pivoted, throwing a bone to liberal America. "Tina Fey's been pretty clever," Palin said. Later, she looked positively charming next to Donny Deutsch and Star Jones.
Meanwhile, Lauer's real co-host, Ann Curry, who replaced Meredith Vieira just last year and whose days are rumored to be numbered in that spot, sat idly by, interacting barely at all with Palin.
On ABC, Couric was her old self, a seasoned pro. She played the background in the first hour, doing the dutiful anchor thing, and dialed up the charm as the show wore on. She made a one-on-one interview with Camille Grammer palatable and won a breakfast sandwich cook-off judged by Emeril Lagasse. Just like pitting her against Palin, the game may have been rigged — or maybe Couric just has more practice.