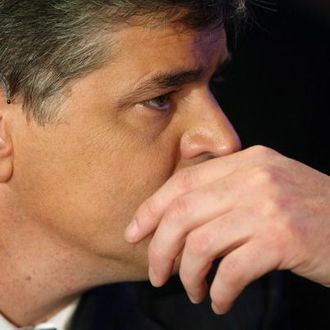 Everyman Sean Hannity was absolutely flabbergasted on his radio show yesterday when a caller dared to suggest that Mitt Romney's wealth made him unrelatable. "When was the last time he went to bed, or woke up, hungry?" the communist asked. Choosing to take the comment very literally, Hannity argued that poverty and hunger are not linked; even the poorest Americans, he argued, have freezers, televisions, and DVDs. "They just don't have the best and the latest," he said. "I never went to bed hungry in my life, ever," he added unsurprisingly. Then Hannity recommended a recipe:
I don't believe people are going to bed hungry. … For, instance I have friends of mine who eat rice and beans all the time. Beans protein, rice. Inexpensive. You can make a big pot of this for a week for negligible amounts of money and you can feed your whole family.

Look, you should have vegetables and fruit in there as well, but if you need to survive you can survive off it. It's not ideal but you could get some cheap meat and throw in there as well for protein. There are ways to live really, really cheaply.
Hannity makes about $10 million per year — he should invite his "friends" over for dinner more often.