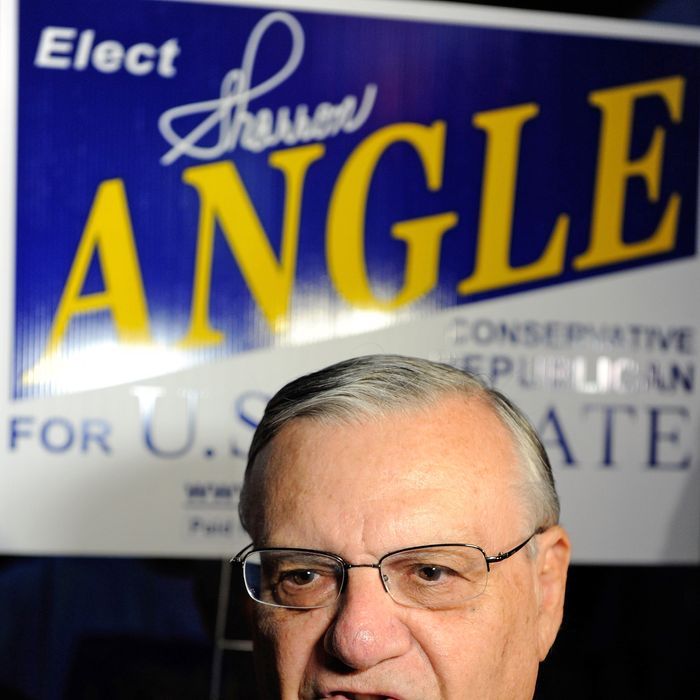 Arpaio at a rally for (
failed
) Tea Party candidate Sharron Angle. (Ethan Miller/Getty Images)
Photo: Ethan Miller/2010 Getty Images
Maricopa County sheriff Joe Arpaio has never minced words when it comes to his contempt for the federal government's immigration policy, or its various investigations into civil rights and constitutional abuses by his office. But a recently uncovered 2009 recording of a speech Arpaio gave at a Texans for Immigration Reform meeting in Houston really took things up a notch. To laughs, he spoke of refusing to take part in the federal inquiries and bragged of kicking civil rights investigators out of his office. (In that case, a court order ultimately forced his participation.) Arpaio, who has a fondness for racial profiling as a part of law enforcement, also revealed that "after they went after me, we arrested 500 more just for spite." 
When interviewed by the AP, Arpaio defended his remarks by saying that "these are not official, under-oath speeches." But when asked specifically about his "spite" comment, he doubled down. "It was wrong," he replied. "It wasn't 500. It was thousands."
Among the activities that the FBI is currently investigating are Arpaio's controversial anti-public-corruption squads, which so far have managed only one indictment and at least three botched cases. Still, Arpaio is sticking to this as a point of pride.
We have already indicted one, so I am not their favorite guy. The county has cut my budget $35 million just for spite. But I'm still locking them all up. I have ways to get the job done.
This strong-arm attitude is what landed Arpaio in trouble with the Department of Justice, which in December concluded that Arpaio oversaw the "worst pattern of racial profiling by a law enforcement agency in U.S. history," according to the Phoenix New Times. Among the department's findings: Spanish-speaking inmates were frequently mistreated, and a full fifth of all immigration-sweep traffic stops violated the Fourth Amendment.