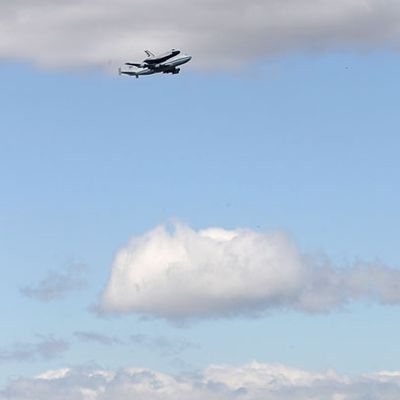 Photo: Michael Heiman/2012 Getty Images
In 1961, they wheeled a black-and-white TV into my seventh-grade class so we could watch a real American (Alan Shepard, not some commie Russian) go into space, the New Frontier. Today, more than 50 years later in Red Hook, about 50 people, way fewer than those shopping at the nearby Fairway, showed up on a freezing pier to watch the space shuttle fly over one last time.
It wasn't exactly what you'd call a victory lap. The Enterprise wasn't flying on its own; it was attached to the top of a 747, a hobo hitching a ride. This particular edition of the Enterprise, a prototype, hadn't even made it into space. Still, the event had its solemn resonance. The space shuttle was supposed to pick up where the heroes of the Right Stuff — Shepard, John Glenn, and the rest — left off. It was supposed to hurtle the species further toward the stars.
Yet the most memorable moments of shuttles'$2 30-year run were the disasters, the midair explosion of the Challenger in 1986, the Columbia in 2003. The message was space was a dangerous place, but progress was worth the risk. Which is what made the Shuttle's last flight, a quick pass over the Statue of Liberty, so sad. It was as if this particular sector of the future, which seemed so glittery in seventh grade, had come to a close. We couldn't afford it anymore. Maybe Chinese guys could, but not here. As the Enterprise flew into the distance over the Verrazano Bridge, it resembled one of those smudgy pictures they publish in the UFO magazines: something in the sky, the identity and meaning of which was indeterminate.