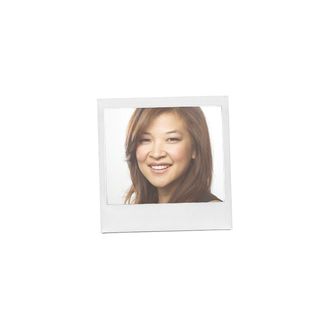 Name: SuChin Pak
Age: 36
Neighborhood: Lower East Side
Occupation: DailyCandy Chief Correspondent, TV host, Co-Creator Hester Street Fair
 
Who's your favorite New Yorker, living or dead, real or fictional?
Bill Cunningham has to be one of the best characters living in NYC. Heart, honesty, passion, drive, and integrity — what more could you ask for in a hero?
What's the best meal you've eaten in New York?
Basta Pasta. Start with the crab, avocado, and green apple salad, then the linguine with fresh sea urchin and basil in pink sauce, and just a little bite of the grilled squid with sausage-curry risotto and pine nuts. Finish with one of every dessert.
 
In one sentence, what do you actually do all day at your job?
I pitch, write, and report on trends in fashion, food, and culture for DailyCandy.com.
 
What was your first job in New York?
I was one of three hosts for a daily talk show on the Oxygen network when it first launched in 2000. This was before Bad Girls Club, so don't judge.
 
What's the last thing you saw on Broadway?
I'm embarrassed to say it: Avenue Q. Like nine years ago? Live theater makes me nervous. I feel like I have to fake emotions, because the actors can see me. And I feel bad, especially if it's not going well. That's too much work, which is also why I don't go to comedy clubs either.
 
Do you give money to panhandlers?
Always. Man, it's hard living in NYC — even when you have money in your pockets. What's an extra few bucks to give to someone who's struggling on the streets?
 
What's your drink?
Elderberry flower syrup + Boylan lemon seltzer + lots of crushed ice.
 
How often do you prepare your own meals?
Once a week — unless you count my brother's cooking, which is about three times a week.
 
What's your favorite medication?
Ambien. When I really need it, it's like a gift from God. It's changed my life from wringing-hands Nervous Nellie at bedtime before an early call time to cool, calm, and collected Su.
 
What's hanging above your sofa?
Two large paintings on old window frames by an ex that are so beautiful I can't bear to get rid of them.
 
How much is too much to spend on a haircut?
One of the perks of having a hairstylist as one of your closest friends is that I haven't paid for a haircut in ten years. So I think my numbers are skewed. $150?
 
When's bedtime?
It never comes soon enough. I feel no shame getting in bed at nine.
 
Which do you prefer, the old Times Square or the new Times Square?
New Times Square. It's like a video game out there, and I like that you can sit at a table in the middle of Broadway. And the stadium seats at the TKTS booth is one of the best people-watching spots in town.
 
What do you think of Donald Trump?
I think about his kids more. Does Ivanka laugh? Is Donald Trump Jr. a clone? Who names their kid Barron?
 
What do you hate most about living in New York?
That all cabs go off duty at the same time every day. Why?
 
 Who is your mortal enemy?
All those nasty, disgusting people who leave big piles of dog shit on the sidewalk. I once heard this story about a company that does genetic testing on dog poo to find the guilty owners. All dog owners should have to register in their buildings, and then there should be huge fines. Could you imagine all the public schools we could help fund with this extra cash flow? If there was even the threat of that, we wouldn't see half as much of it on the streets.
 
When's the last time you drove a car?
I split my time between N.Y. and L.A., so I drive a car way too much. Can't remember the last time I drove in N.Y., though. Maybe last summer I rented a Zipcar to get groceries for a barbecue.
 
How has the Wall Street crash affected you?
You just have to find more creative ways to get things produced. In a way, it's made it easier — people are more willing to take chances on good ideas instead of just paying for big mistakes.
 
 Times, Post, or Daily News?
Times, because I read it online.
 
Where do you go to be alone?
L.A.
 
What makes someone a New Yorker?
Extreme impatience, skilled hustling, and personal charisma.