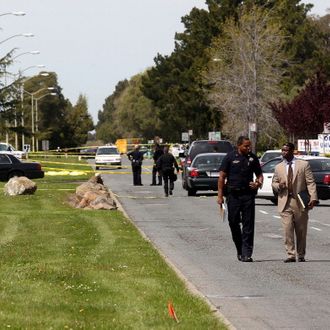 The scene at Oikos University.
A 43-year-old former nursing student identified as One L. Goh has been taken into custody in connection with the Monday morning shooting at Oikos University in East Oakland, California. Seven were killed and at least three more were wounded. Goh turned himself in after driving to a nearby Safeway in a vehicle belonging to one of the victims. Oakland police chief Howard Jordan said at a news conference Monday night that Goh acted alone and used a handgun.
Goh was a former nursing student at the Christian college that's affiliated with a Korean-American Church, but he is not currently enrolled.
Chief Jordan described the aftermath as "a very bloody scene with lots of evidence" and said police have not yet determined a motive for the massacre and don't know if Goh knew any of the victims. 
"This is the kind of situation where we need to pull together to support the Korean community in particular," Mayor Jean Quan said. "I hope we will put our arms around these people and this community."