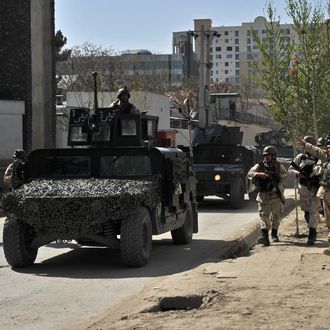 Afghan soldiers called out to confront Taliban. (MASSOUD HOSSAINI/AFP/Getty Images)
Photo: MASSOUD HOSSAINI/2012 AFP
The sounds of explosions and gunfire rang through central Kabul today, as Taliban fighters, holed up in buildings around the city, targeted the American, Russian, and German embassies, a hotel frequented by foreign journalists and businessmen, the national parliament building, and NATO's military headquarters. "Our spring offensive has begun," a Taliban spokesman told the Washington Post, connecting the dots between these and several other coordinated attacks in the eastern part of the country, where Taliban suicide fighters also targeted a U.S. airfield and a university campus. So far no casualties have been reported.
Just across the border with Pakistan, the Taliban was also on the move, blasting the metal gates off a prison in the town of Bannu with rocket-propelled grenades and freeing almost 400 inmates. One (we presume un-freed) prisoner described the attack to Reuters.
It must have been way past midnight. There were huge explosions. Plaster from the ceilings fell on us. Then there was gunfire. We didn't know what was happening.
In all, at least twenty high-level militants were freed, as well as two men on death row, one for the attempted 2007 assassination of then-President Pervez Musharraf. A Taliban spokesman did claim as many as 1,200 comrades had been liberated in the daring raid, but that seems unlikely given the prison only held about 950 inmates. Still, this is a huge embarrassment for the Pakistani government, which has been criticized by the U.S. and by its own people for the ineffective handling of its own homegrown terrorism problem. Except "this is beyond terrorism," one local government minister told CNN. "Such an attack challenges the writ of the state." 
And for all those who were hopeful for slow-brewing peace talks between the Taliban, Karzai's government, and the United States, this is yet another ugly setback.