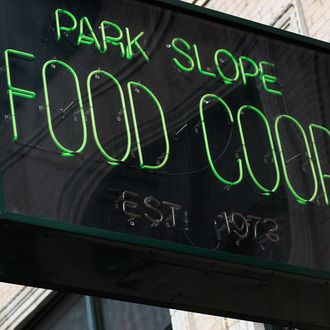 Photo: Chris Hondros/2010 Getty Images
The Park Slope Food Co-op gets to do things like hold referendums on whether to vote on banning Israeli products in part because there aren't a ton of other options for collectivist-minded Brooklynites who like getting a really good deal on nuts and spices. But nothing gold can stay, Ponyboy, and capitalism appears to be coming to the Co-op, in the form of some nearby competition. As the Daily News reports, a newish Clinton Hill food co-op, Greene Hill, has siphoned off more than 60 PSFC members, including boldface name (and longtime shift-slacker) Adrian Grenier.* Our own spies tell us that the prices aren't quite as low as the Co-op's yet, but as the News makes clear, the bar that members must clear is much lower. This isn't the same "militant" and "intense" atmosphere as Park Slope's Co-op.
At Greene Hill, members say the rules are lax: At least for now missing work won't keep them from enjoying the food aisles.

Cathy Mulhall, 23, said she hadn't reported for her mandatory shifts at the Greene Hill in three months - and is still allowed to shop.

"They've been patient so far," said Mulhall. "They are just trying to keep it running."
Well, capitalism will eventually bring efficient markets, right? Except … the Park Slope Co-op doesn't actually seem to see Greene Hill as competition, but rather more like a spiritual expansion, at least for now.
Slope coop manager Joe Holtz said Grenier wasn't booted, and that the Union St. market helped created Greene Hill.

He said the Slope coop is in the middle of advising three more budding markets in Bushwick, Bay Ridge and Lefferts Gardens.

"He switched coops, which is fine," said Holtz of Grenier, adding any Park Slope member can now work at Greene Hill helping the market grow.

"We are over capacity," Holtz said. "We are the biggest single store coop in the country" boasting more than 16,400 members. Park Slope made $45 million last year.
That ours-is-bigger boasting suggests that there's at least a kernel (organic, natch) of a fight ready to happen here, though. Soon, all Brooklyn will have to choose sides. There'll be branded natural-fiber tote bags worn as badges of co-op loyalties. There will be dueling message boards. And from there, things will escalate. It's just a hop, skip, and a jump to a time when certain playgrounds won't let you park your stroller if the kale-chip snacks didn't come from the right co-op. Good thing Co-op members have already negotiated an important geopolitical conflict. They'll be ready for this one.
* This original version of this sentence mistakenly placed the new co-op in Cobble Hill.