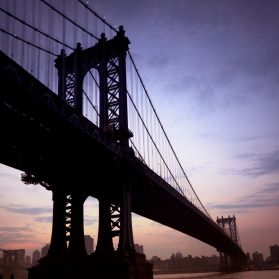 Photo: iStockphoto/iStockphoto
Reality TV show producers are rapidly running out of close-knit communities and ethnic-religious groups to stereotype on the small screen, and so perhaps it was only a matter of time before we got Shunned, a show highlighting the lives of New York's ex-Hasids. As the Post reports, the production hasn't yet been picked up by a network, and it doesn't exactly seem to have the shock value of, say, Jersey Shore. Though the producers seem determined to wring as much drama as possible out of first bites of bacon and viewings of Star Wars, leaving the Hasidic community doesn't exactly seem to have made these twenty- and thirtysomethings go wild.
One of the main characters, the colorfully named Pearlperry Reich, declares that "My main purpose is to create a positive Judaism," a lovely sentiment, which might make her mother proud, but as a catch phrase, probably won't pull in the same attention as "smooshing." But at least one character is willing to hew slightly to reality television tropes.
Luzer Twersky, divorced with two children, said that after leaving the faith, he played the field for a while.

"The lifestyle didn't fit me," he said. "You can't sleep with a lot of women. You can't try a lot of different kinds of food. It's all about fitting in."

Now he's in a committed relationship with a blond, Irish-Catholic girl from Arkansas, a plot line that "Shunned" will be sure to follow.

"She's as shiksa as they come," he said. "She's f—king awesome!"
If this thing ever makes it to air, it'll be the Luzer show, mark our words.