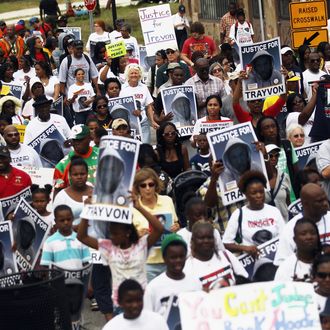 A rally for Trayvon Martin.
Photo: Mario Tama/2012 Getty Images
Hal Uhrig, an ex-Florida police officer and the new criminal-defense attorney for Trayvon Martin shooter George Zimmerman, is starting off with a media campaign to defend his client. Today on CBS, Uhrig explained how Martin was attacking Zimmerman, requiring him to shoot the 17-year-old in self defense. "We're familiar with the Shaken Baby Syndrome," said Uhrig. "You shake a baby, the brain shakes around inside the skull. You can die when someone's pounding your head into the ground."
As put pretty delicately by Reuters, "Uhrig's choice of words, and use of a recognized sign of child abuse to defend a 28-year-old man who killed a kid, seemed likely to raise more than just a few eyebrows." This guy's not doing Zimmerman any favors so far.