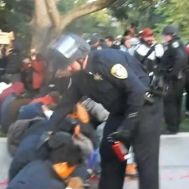 Declared unreasonable.
Photo: YouTube
Wanting to allow the UC Davis police department to rid itself of the toxic stigma caused by the infamous pepper spray incident at an Occupy UC Davis protest on November 18, 2011, the department's police chief Annette M. Spicuzza has announced her resignation today. And perhaps wanting to avoid getting peppered with questions about the "objectively unreasonable" use of the eye-stinging chemical, Spicuzza notified the press of her decision in an e-mail to the Sacramento Bee.
"As the university does not want this incident to be its defining moment, nor do I wish for it to be mine," Spicuzza wrote. "I believe in order to start the healing process, this chapter of my life must be closed."

Spicuzza has been on paid leave since the incident occurred and so has campus police lieutenant John Pike, who sprayed students in the face from an oversize canister while they sat on a sidewalk. Spicuzza's resignation comes a week after a UC Davis investigative task force announced its conclusion that the use of the spray was not necessary under the circumstances, a claim the attorney for the campus police officers union has disputed.
"There was really no reason, we conclude, to have used the pepper spray," said Cruz Reynoso, a retired California Supreme Court justice who chaired the task force. The Associated Press reported last week that the report chided Spicuzza for "failing to challenge the timing of the operation and not providing clear instructions to the responding officers."
The chapter may be over for the outgoing chief, but the Internet is forever.