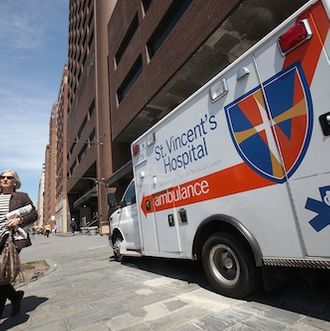 A UPS driver employed by the company for more than 30 years was struck by an SUV on his route in lower Manhattan and remains in critical condition at Bellevue Hospital.
The driver has been identified as New Jersey resident Mike Rogalle. The accident took place after he made a delivery near 15 Beekman Street around 4:40 p.m., when a person driving an SUV "suddenly jumped the curb and hit him," police said. Witnesses said that Rogale was hit from behind and pinned against a building.

There's conflicting reports about the identify of the driver; NBC New York writes that witnesses said the driver of a red GMC Envoy was a woman traveling with two small children, while the Daily News reports that witnesses described a man exiting the vehicle, "walking around with the baby, not knowing what to do. He walked in circles, the whole time with the baby in his hands."
Rogalle was reportedly conscious and talking when he was loaded into an ambulance.
*An earlier version of post noted a source that said Rogalle had died from his injuries. That report has since been retracted.