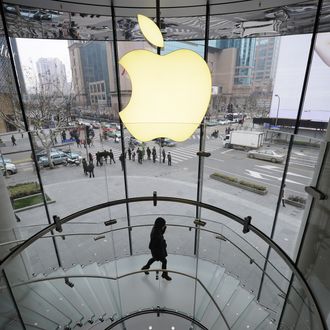 Photo: PETER PARKS/2012 AFP
As threatened, the Justice Department has filed an antitrust lawsuit against Apple and major book publishers including Hachette, HarperCollins, Macmillan, Penguin, and Simon & Schuster, accusing them of colluding to rip off e-book customers. While Simon & Schuster, Hachette, and HarperCollins have agreed to settle, according to Bloomberg, Apple and Macmillan want to fight this thing.
According to the lawsuit, Apple worked with the book companies to undermine retailers like Amazon, thus causing "e-book consumers to pay tens of millions of dollars more for e-books than they otherwise would have paid." Steve Jobs's biographer quotes him as saying, "We told the publishers, 'We'll go to the agency model, where you set the price, and we get our 30 percent, and yes, the customer pays a little more, but that's what you want anyway." As the Times explains it:
That policy, known as the agency model, allowed publishers to set their own prices on e-books, with the retailer taking a commission. It was a significant switch from the wholesale model that publishers had been using for print books, in which publishers charged retailers about half the cover price for a book and then allowed retailers to set their own sale price.

Many publishing executives have worried that without the agency model Amazon would gain a monopoly over e-books, because the wholesale model would allow the giant retailer to sell e-books for less than it paid publishers — a practice that smaller companies would not be able to imitate.
The suit adds that publishing CEOs met "in private dining rooms of upscale Manhattan restaurants" to do their alleged scheming. Of course.