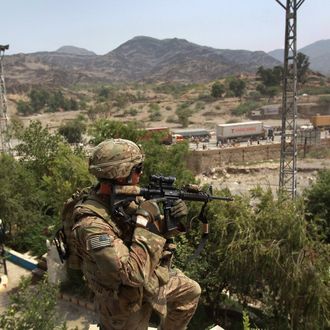 Photo: John Moore/2011 Getty Images
Two-year-old photos published today depict U.S. troops in Afghanistan posing with the bodies of dead suicide bombers, and risk inflaming a war-torn country already on edge. So far this year, the alleged massacre of seventeen Afghan civilians by Staff Sergeant Robert Bales and the burning of Korans at an American base have stirred violence and heightened already tense diplomatic relations.
On Wednesday, General John Allen, the commander of the International Security Assistance Force in Afghanistan, said he "strongly condemns the actions depicted in photos released by LA Times that appear to show U.S. Army personnel posing with the bodies of insurgents who killed themselves in suicide attacks in 2010," according to a NATO statement.
"The actions of the individuals photographed do not represent the policies of ISAF or the U.S. Army," Allen said.
Shortly after his statement was released, it was reported on Twitter that the L.A. Times would release the photos imminently, despite requests from the Pentagon not to publish them. "Secretary Panetta strongly rejects the conduct depicted in the photographs," the Pentagon press secretary said in a statement.
The Times appears to have so far put two of eighteen pictures online, all of which were provided to them by a soldier from the 82nd Airborne's 4th Brigade Combat Team from Ft. Bragg, North Carolina. "He said the photos point to a breakdown in leadership and discipline that he believed compromised the safety of the troops," according to the paper.
Times editor Davan Maharaj said, "After careful consideration, we decided that publishing a small but representative selection of the photos would fulfill our obligation to readers to report vigorously and impartially on all aspects of the American mission in Afghanistan, including the allegation that the images reflect a breakdown in unit discipline that was endangering U.S. troops."
"Such actions are morally repugnant, dishonor the sacrifices of hundreds of thousands of U.S. soldiers and civilians who have served with distinction in Afghanistan, and do not represent the core values of the United States or our military," the U.S. Embassy in Kabul said in a statement.