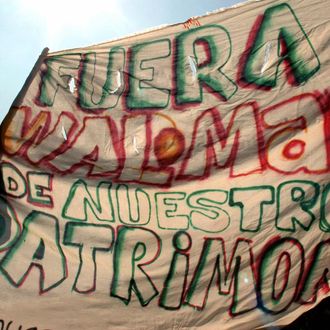 Tomorrow's going to be a long day for some very high-powered people in Bentonville, Arkansas, thanks to a 7,584-word New York Times investigation involving a major bribery scandal at Wal-Mart de Mexico, the retail giant's largest foreign subsidiary. Apparently, back in 2005, a recently resigned Mexican executive e-mailed a top Walmart lawyer with a tip-off: The subsidiary had bought its way to market dominance by paying millions in bribes for construction and zoning permits. Within days, the company had a team of investigators in Mexico City who quickly uncovered hundreds of payments totaling more than $24 million. But instead of acting on the lead investigator's report — which noted a "reasonable suspicion" that both U.S. and Mexican laws had been violated — Walmart's top management hushed the whole thing up.
>
First, when Corporate Investigations issued their report to management, then-CEO H. Lee Scott Jr. rebuked them for being "overly aggressive." When an outside law firm specializing in the Foreign Corrupt Practices Act (or FCPA) recommended a four-month fine-tooth-comb investigation, management chose to go with a two-week-long "preliminary inquiry." Instead of delegating the final report to an independent official, the company actually shipped all the investigation's files to the Mexican general counsel implicated in the bribes.
The author of the 2005 e-mail was was Sergio Cicero Zapata, who organized Wal-Mart de Mexico's multimillion-dollar greasing machine. He called it working "the dark side of the moon." He told the Times that he used two trusted outside lawyers to deliver envelopes of cash to government officials — $8.5 million was ultimately funneled through them. But Cicero wasn't the only one in on the scheme. Wal-Mart de Mexico's then-CEO Eduardo Castro-Wright, since promoted to a company-wide chairman, was in it up to his neck.
In an interview with The Times, Mr. Cicero said Mr. Castro-Wright had encouraged the payments for a specific strategic purpose. The idea, he said, was to build hundreds of new stores so fast that competitors would not have time to react. Bribes, he explained, accelerated growth. They got zoning maps changed. They made environmental objections vanish. Permits that typically took months to process magically materialized in days. "What we were buying was time," he said.
Castro-Wright and other top Mexican executives received monthly reports detailing the various payments that had been made, payments that were then fudged as legal fees. When a March 2004 internal company audit did raise red flags about the transfers, the Mexican subsidiary's chief auditor stripped out a recommendation that Bentonville be alerted. According to Cicero, the auditor was also in on the bribes. Not long after, the report's author was fired.
Even current Walmart CEO Michael Duke was informed of the brewing scandal as early as October 15, 2005, going by an e-mail obtained by the Times.
When presented with the paper's findings, Walmart issued the following response.
Many of the alleged activities in the New York Times article are more than six years old. If these allegations are true, it is not a reflection of who we are or what we stand for. We are deeply conceded by these allegations and are working aggressively to determine what happened.
These allegations are serious, especially since the Justice Department has been prosecuting FCPA cases a lot more energetically of late. Not to mention that, with one out of every five Walmarts now in Mexico, a scandal of this magnitude could easily ripple out through the world's largest company.