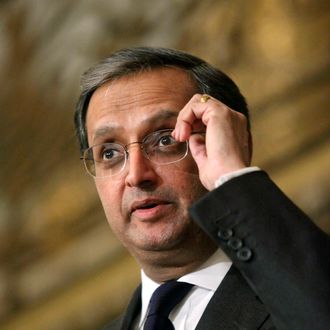 Photo: Bloomberg/2011 Bloomberg
For a long time, we felt bad for Vikram Pandit. Even WE made a higher annual salary than the Citigroup CEO, who for several years after the financial crash was raking in just $1/per annum, with only the occasional pittance of a retention bonus. He was crammed into this tiny space, a $4.3 million Greenwich six-bedroom set on 2.3 acres. Could he even have friends over for drinks in that place? Perhaps that's why, as soon as the news hit that Citi would pay Pandit a normal CEO salary again —$1.6 million base, plus $5.3 million bonus and additional stock — he and his wife decided to put their country place on the market, listing it with Sotheby's real-estate division, presumably to upgrade to something a little nicer.
Pandit's timing was a bit unfortunate: Nearly simultaneous with the news that the place was on the market came the news that Citigroup's board wants to downsize that new pay package a bit, a strong signal that they might not be so into astronomical executive compensation these days. Will poor Pandit be able to afford a new place?
(Yes.)