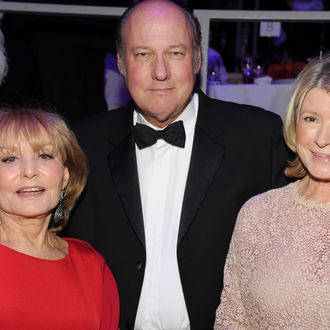 Martha Stewart at the Time 100 Gala.
Photo: Patrick McMullan
At last night's Time 100 dinner, Intel was delighted to find out we'd been seated next to an already-tweeting Martha Stewart. We've long been fascinated by the formerly tightly controlled domestic impresario's freewheeling online missives, and so we had to ask: Why tweet, Martha? "What's my opus? " she replied. "It's entirely haphazard. Entirely. But it's set on my phone. I have my little Tweeter right here." Stewart pointed to one of her two Blackberries —  labeled "phone" and "e-mail" and rendered with very, very large typeface. "It's all set up very easy. Oh, I have to take a picture, though. I'm not going to do this without a photo."
As if on cue, the perfect photo op sat down at our table. "Seth! You have to be tweeted. And beautiful girlfriend." The technology wasn't cooperating. "Come on, take the picture," she muttered. "Low light it says. I should use my other one. Okay, I think I got it." Three pictures resulted; one made it to Twitter. "seth meyers is at my Time 100 table with his girfriend rhianna is going to sing,hilary is speaking," it read, bringing us to our other burning question about Martha's "natural response to cyberspace," as she also described her Twitter habit: Does it ever happen under the influence?
"They always think I'm drunk because I'm always tweeting in the dark, so it makes me do misspellings," said Stewart, who was sipping … something that did not look like water. "But that's stupid. I don't get drunk. Please." Nor does she eat unappetizing food, like the fish she was served. "If I get hungry, I'll just go upstairs and order a bowl of noodles from Masa," she explained, laughing. "Maybe I should call them and order. 'Hey, Masa, I'm downstairs at an event. Can you bring me some noodles?' They would love it!"
Twitter isn't the only new-age social network Stewart has tried. "My niece is dating a guy who's writing the definitive history of online dating. So I tried filling out the Match.com form. I couldn't get past the first page!" she said. "The questions are so ridiculous, and they ask you to define yourself. It's just ridiculous." (Besides, even if she could get a profile together, says Stewart, "I'd be murdered on the first date!") She has offline admirers, though, including Harvey Weinstein, who, upon seeing Stewart tweeting a photo of Raphael Saadiq's performance, told her, "You're cool, just cool. I want to go to a rock concert with you." What show? "Whatever she wants. Springsteen." She countered. "I'd rather go to a rap concert than a rock concert. If Eminem ever comes back, I want to go see Eminem." Perhaps they weren't a match.
Stewart left early — maybe for those noodles — but not before making fun of Chelsea Handler's dress sotto voce. "Is that a toga? That is a very high slit. In a very odd place," said Stewart, nodding at the distinct lack of fabric near Handler's posterior. She tried to take a picture of it so she could tweet. The phones, alas, weren't cooperating.