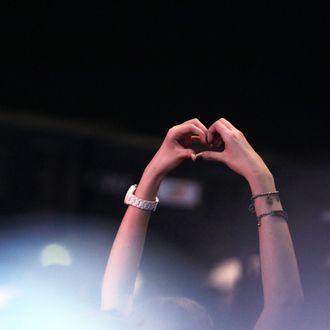 Photo: Johannes Simon/Getty Images
Thomas "Tommy Shots" Gioeli is on trial in Brooklyn federal court for his alleged involvement with the Colombo crime family. Since the mere presence of a mobby-sounding nickname isn't enough to convict someone in these here United States, the prosecution is relying in part on the testimony of Joseph "Joey Caves" Competiello, whom the Post identifies as a "rat," and who has admitted to killing at least five people during his involvement with the Colombos. Things got a little handsy in court yesterday, apparently: Gioeli was said to be signalling Competiello while he was on the stand.
The alleged gesticulations between Gioeli and Joseph "Joey Caves" Competiello could not be seen from the gallery, and weren't described in open court.

But Brooklyn federal-court Judge Brian Cogan was not amused.

The judge pulled prosecutors and defense lawyers aside for a short powwow, out of earshot of jurors and the audience, then issued a warning:

"I'm not saying this happened," the judge told Competiello, Gioeli and co-defendant Dino "Little Dino" Saracino.

"But there can be no exchange of hand signals between the defendants and the witness."
He was probably signaling something nice and innocent, right? Like maybe he threw a hand heart up there?