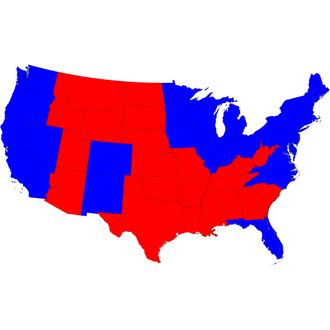 USA Today has released a survey of swing states, showing President Obama running nine points ahead of Mitt Romney. There are plenty of reasons not to take a poll like this too seriously — Romney still hasn't consolidated the support of conservatives who are sure to vote for him over Obama, and there's not much use in teasing out "swing states" as opposed to the overall vote this early. But, over at The Hill, Christian Heinze says the poll is misleading. It includes as swing states Michigan, New Mexico, and Wisconsin, where Obama has a huge lead, and leaves out Indiana, Arizona, and Missouri, which are close. "If you were to include them in the swing state poll (which you should)," writes Heinze, "this thing would be much tighter."
Well, sure. But USA Today probably selected its swing states because it wanted to provide a sense of which candidate is ahead in the electoral college. The non-swing states omitted by USA Today give Obama a base of 196 electoral votes, and Romney 191. The states they picked represent the middle. It's true, as Heinz says, that USA Today's selection has a bunch of states where Obama is way ahead, and none where Romney is way ahead. That's because Obama is currently running ahead of Romney.
You could, as Heinz suggests, produce a more evenly-divided poll of "swing states" if you included Indiana, Arizona, and Missouri. But if you included them, then Obama starts off with a base of 196 and Romney with a base of 159. If you also removed Michigan, Wisconsin, and New Mexico on account of non-closeness, then Obama would have 227 electoral votes against Romney's 159. That would sort of defeat the point of having a swing-state poll, which is designed to measure the states most likely to determine the winner. In 2008, you could have done a poll of the closest swing states — Missouri, North Carolina, and Indiana — and shown a really tight race. But what would be the point? A world where Indiana and Arizona are competitive and Michigan and Wisconsin aren't is a world where the Democratic candidate is winning.