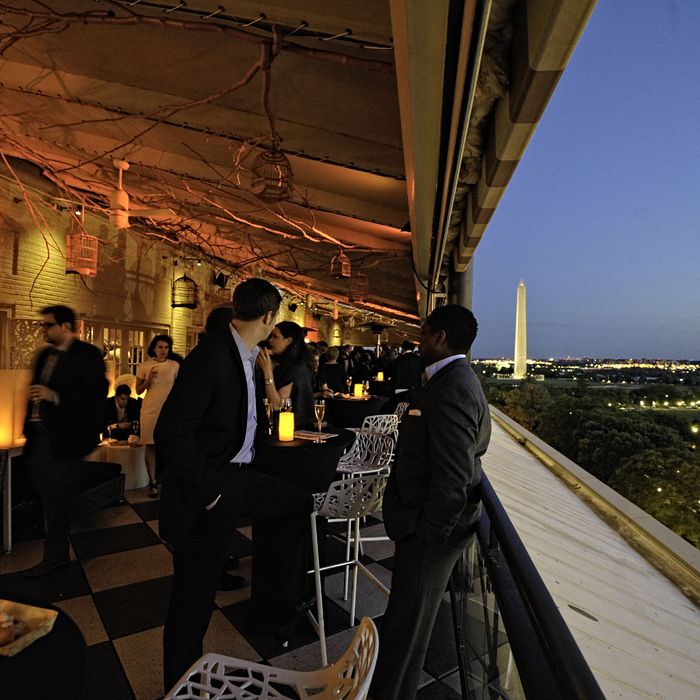 The New Yorker
's White House Correspondents' Dinner Party at the W Hotel.
Photo: 2012 Getty Images
Last evening at the Google/Hollywood Reporter party at the W hotel, Arianna Huffington was holding court, as Arianna Huffington does, telling a story involving lots of bold-faced names. "I remember last year when we had Scarlett Johansson, and suddenly I see her running. I said, 'Where are you going?' She was out of breath, and she said, 'I saw Bernie Sanders,'" Huffington continued.* "And everybody was running after Scarlett, and she was running after Bernie Sanders, because she's a big fan of his. It's really that kind of company. That's the fun part of the night. " The night in question is the annual White House Correspondents' Dinner, this year hosted by Jimmy Kimmel. The whole weekend, which kicks off with Friday cocktail parties, is a kind of real-life Huffington Post: lowbrow celebrity chasing and high-brow wonkery all jumbled up together in a confusing melange. It's hard not to wonder, in fact, if these parties are exactly how Huffington got her idea.
At the yellow-themed People/Time party at the St. Regis, amid Shake Shake desserts and Blackberry-thumbers using their devices to veil their people-watching, the SEO-seeking woman of the hour was Greta Van Susteren basking in the reflected tabloid glow of her invited guest, Lindsay Lohan — who missed her plane to D.C.  yesterday. According to the Fox News host, the invitation has nothing to do with politics. It's a social occasion, and Van Susteren has very fond memories of the year she brought Ozzie Osbourne, whom politicians were "falling all over themselves" to meet. She doesn't know whether Lohan or Kim Kardashian, also slotted to sit at the Fox table, are Republicans. "Look, I love comebacks," said Van Susteren. "Some people fall off, need to get back up on the horse,"  she explained, a rather unfortunate choice of metaphor with which to discuss a drug-troubled actress.
There was political talk, of course. Huffington thinks Marco Rubio might be Romney's VP. "Although it would look a little like Take Your Son to Work Day," she said of the two clean-cut, matinee-idol politicians. "It's not that he's young, but he looks really young." Wolf Blitzer definitely thinks Hillary Clinton will run in 2016, as does Andrea Mitchell, whose pink-clad, white-wine-drinking producer shouted "Ooooh, that's news!" at her boss's prognostication.
But the White House Correspondents Dinner weekend is mostly famous for those oddball D.C.-Hollywood pairings — though it's unclear if Hollywood is quite as starstruck as D.C."I know George Clooney. Why do I have to meet anybody else?" wondered actor Richard Kind.
Or maybe they just didn't recognize the D.C. power elite. We didn't always. Fox's Ed Henry, surprised at having to supply his last name, waxed philosophical about the whole thing. "I hear that all the time, I knew you were someone. It's better than people saying "I knew you were no one." Is that last character assessment what Steve Schmidt really meant when he said of Sarah Palin's recent Today hosting gig, "Listen, good luck to her in all that stuff, all right?"
Game Change writer Danny Strong was more charitable … sort of. "I always thought that was what she was going to do, go into television. I think she's so charismatic; she'd be a great TV personality."
Another politico seems also, perhaps, ready to make the switch. Donna Brazile at first declined to talk politics by pointing at her wine glass. (Respect!) But at the merest mention of recent cameos on the Good Wife, it was game on. "Oh! What do you want to know? Because now I know secretly what I want to do when I grow up, my third act. I want to be an actress," she declared. "I would like Meryl Streep and Cicely Tyson to train me, because I think they represent the kind of actress I would like to be." Her dream role — though playing herself seems to be her preference — is "someone similar to me in terms of being serious." Barbara Jordan, or Oprah. Early career Oprah. Maybe a Whoopi Goldberg biopic if her comedic chops got properly warmed up. But casting directors, take note. "I'm not going to expose any parts of my body that you have not already seen on cable," she stipulated. Later, she and Van Susteren had a long, whispered conversation. Was Van Susteren worried? After all, Lohan started out as a serious actress, too.
Brazile already has a society fan base: David Lauren, son of Ralph and accompanied by his wife Lauren Bush, grabbed New York and asked "Is that Donna?" They seemed less excited, or perhaps a bit frightened, by the bruschetta-laden table in front of them. Lauren's plans for Washington were only to "Take a nice early-morning jog after eating all the bread here."
Nearby, there was evidence of different social pecking order. A woman in yellow nearly brushed past a dark-suited man. "Is the FCC that snobbish?" he asked in mock horror. We didn't know. Is it?
Daily Show reporter Asaf Mandvi seemed equally puzzled by D.C.'s social calculus. Told about a new Karl Rove–sponsored ad that tags Obama with the charge of being "too cool," he nearly doubled over in laughter. "That's … awesome. I don't even need to make a joke there. The fact is that Karl Rove is the "cool meter" in any universe is an absurd thing, isn't it?"
Later, at a party hosted by The New Yorker at the W Hotel's rooftop bar, Jamie Shupak, NY1's traffic reporter, was fascinated by all the anthropology on display, too. It was perhaps an anomalous night for Washington, though: with the White House on full display from the windows, not a single person seemed interested in looking at the ultimate prize. There was too much people-watching. Shupak had convinced Ray Kelly—"the commish!" — to play a few rounds of D.C. versus New York. She demonstrated. "Oh, come on. Blue satin jacket. Go ahead. You do it." New York demurred, preferring instead to ask the kind of hard-hitting questions we love best. Who's the more handsome candidate, or at least the one with the best hair? "Obama!" Shupack answered, rubbing the close-cut, baldish head of her very abashed-looking boyfriend, New York Times reporter Brian Stelter. "This is what I'm into, come on! He's like a white Barack over here!"
She, though, doesn't seem to embarrass easily. For instance, though Stelter tweets plenty of pictures of her amid his media reporting, "I don't ever cringe at his tweets," she said, turning to her white Barack. "Sometimes I'm like, you're so much funnier than that. You sound so serious on Twitter."
"I've missed a lot of tweets during this conversation," said Stelter. He probably wasn't the only one feeling the pain, but it was a tradeoff most seemed willing to make, at least for a weekend.
* The original version of this post read Barry — rather than Bernie — Sanders.